Main content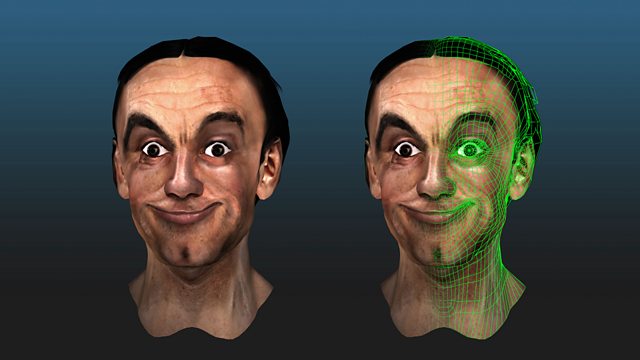 The Human Face: How We See Each Other
How humans and machines interpret facial expressions.
Bridget Kendall explores how we interpret facial expressions and how our face is being interpreted by machines for health, happiness and profit. How do we read each other's faces? How much do we rely on visual clues? How much on context? What is going on in our heads when we respond to a grin or a grimace? And what is happening in the field of machine facial interpretation?
To examine the human face Bridget is joined by Paula Niedenthal, an American social psychologist whose ground breaking research suggests one vital key to reading other people may be our subconscious inclination to mimic each other's facial expressions; Rana el Kaliouby, an Egyptian born computer scientist who is at the forefront of the new field of 'affective computing' – programming machines to read and respond to human emotions; The British actor and director Tony Lidington, with his take on how facial expressions can enhance meaning- and mask it too.
(Photo: Tony Lidington with a Dan Leno smile. Copyright: Harmony Studios)
Last on

BBC World Service
Australasia
Rana El Kaliouby
Rana El-Kaliouby is the Chief Strategy & Science Officer at the MIT Startup Affectiva. She is an expert in emotionally aware artificial intelligence and a major contributor to the field of facial expression recognition and technology development. El-Kaliouby's research endeavoured to depart from the field's dependence on exaggerated expressions created by actors in the laboratory, in favour of focusing on more subtle glances that people make in real situations.
Her 'formative' moment came when she realized that her research needn't be limited to human-to-computer interaction but could also be applied to human-to-human communication.

Paula Niedenthal
Paula M. Niedenthal is a social psychologist and  Professor of Psychology at the University of Wisconsin–Madison, where she is the principal investigator at the Niedenthal Emotions Lab.  Her research focuses on emotion processes at several levels of analysis. At a basic cognitive level she is interested in how emotions influence the perception and interpretation of facial expression and of other symbols with emotional value, such as words. She has also examined the role of emotion in categorization.

Tony Lidington
Tony has been a showman for over 30 years – researching and implementing British popular entertainment forms in a wide variety of contexts. Founder and performer of the last-remaining professional seaside pierrot troupe in the UK "The Pierrotters", he has performed at countless resorts and events and as his alter ego "Uncle Tacko!", he opened the National Theatre of Variety at Blackpool Grand Theatre & Opera House and was invited to meet Her Royal Highness Queen Elizabeth II at Buckingham Palace on behalf of all seaside entertainers. In the 1990 and early 2000's he was the Artistic Director at Wakefield Theatre and Opera House before diversifying into writing, teaching acting and directing.
He entertains via a plethora of formats: storytelling, music, puppetry, music hall, pantomime, variety. He is at varying times a director, manager, consultant, facilitator, performer, workshop leader, broadcaster, lecturer, teacher and writer.
Broadcasts
BBC World Service

except Americas and the Caribbean, Australasia & News Internet

BBC World Service

Americas and the Caribbean

BBC World Service

except News Internet

BBC World Service

Australasia