Main content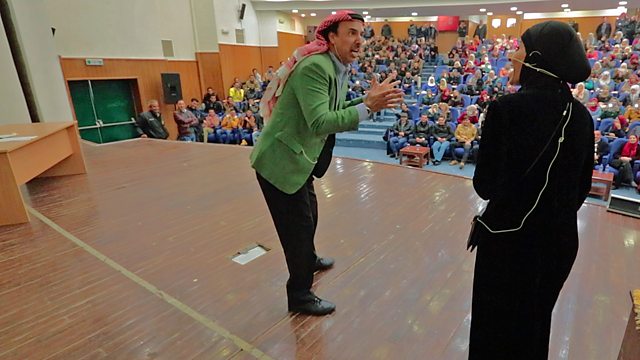 The Battle of Ideas in the Middle East - Part One
Mainstream muslims are battling the violent ideology of the so-called Islamic State. Meet the religious scholars fighting extremism online and the comedians mocking it onstage.
Kevin Connolly travels through the Middle East to look at different ways in which the Arab states in the region are confronting the ideas of the so-called Islamic State and how well-equipped they are to fight them.
Through social media sites, a network of sympathetic preachers is promulgating a jihadist vision of Islam and recruiting fighters from across the Middle East. Tunisia and Libya are among the key recruiting grounds and the largest providers of 'foreign fighters' in Syria and Iraq.
From the markets of Morocco to the boulevards of Beirut, Kevin Connolly talks to those who are engaged in the frontline of this battle of ideas. He asks if educational systems are helping to promote positive narratives of Islam to combat the underground appeal of IS. He visits a university in Jordan where a touring theatre company is staging a comedy show to fight back against extremism.
In Jordan he meets the imams who have been arguing directly over the internet with representatives of the so-called Islamic state. He also meets the parliamentary speaker left broken hearted when his son was recruited to become an IS suicide bomber. And, after years in which western analysts have talked about the slickness of IS online propaganda, we ask young people in the Arab World what they think of the videos that glorify violence.
Broadcasts
BBC World Service

East and Southern Africa, East Asia, West and Central Africa, South Asia & Europe and the Middle East only

BBC World Service

Americas and the Caribbean, Online, UK DAB/Freeview & Europe and the Middle East only