Main content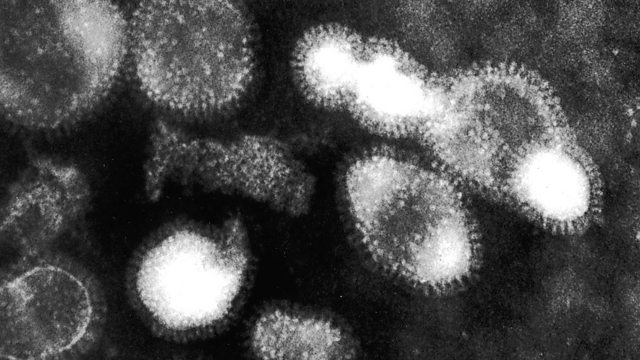 Gain of Function
Gain of function; Plastic Eating Bacteria; Easter Rising VR; Suicide; Gene editing; Snakes
This week in the US, public discussions are taking place into controversial Gain of Function research. Who should decide the limits of studies where scientists make new, deadlier viruses in the laboratory? Dr Filippa Lentzos, biosecurity expert from Kings College, London, lists a litany of accidental security breaches from the past. Should we stop this kind of dangerous research, or encourage it, in the interests of national security? Virologist Professor John Oxford of Queen Mary University in London argues that we need this research.
Plastic Eating Bacteria
About 311 million tonnes of plastics are produced every year and 90% of these are derived from petrol. Most of this is used for packaging and only about 14% is recycled. As the plastics are made to be durable and stable, they remain as waste in the environment. A solution would be to produce plastics that are degradable from renewable resources. This now maybe possible thanks to a discovery by a team of Japanese scientists who have found a bacterium that can fully degrade a widely used plastic. Professor Uwe Bornscheuer from the University of Greifswald explains why this finding is so significant.
Easter Rising: Voice of a Rebel
Anglo-Irish history is being taken on by the powers of virtual reality spatial storytelling. At its heart is a remarkable eye-witness account from the centre of the Easter Rising, as those on both sides of the Irish Sea mark the rebellion's 100th anniversary. Gareth Mitchell talks to the VR producer, Catherine Allen on the eve of the launch of Easter Rising: Voice of a Rebel
Suicide
Sheep farmer Tim Barritt, from the Barossa Valley in South Australia, has written and published 81 adverts designed to get people talking about emotional health issues, to make them feel less alone and avoid suicide. In every advert he encourages people to seek help and provides information about how to do so. He tells Claudia what prompted him to launch his campaign and what keeps him motivated to continue.
What is the evidence that this type of intervention is successful? Professor Keith Hawton, consultant psychiatrist and director of the Centre for Suicide Research at Oxford University, explains what works when it comes to suicide prevention.
Editing The Genome
Over the last four years, scientists have discovered a simple and powerful method for altering genes. This will have massive implications for all of us as it raises the possibility of easily changing the genetic code in animals, plants and ourselves. The potential for good is enormous. The ethical challenges are profound. Professor Matthew Cobb explores the brave new world of CRISPR gene editing.
Slithering Snakes
For the first time scientists in the US have monitored how snakes move. They've found that they have a specific stereotyped waveform movement across sand. Johnathan Webb has been to investigate
The Science Hour was presented by Claudia Hammond, with comments from BBC Science Reporter Jonathan Webb.
Producer: Deborah Cohen
MAIN IMAGE: The H5N1 or 'bird flu' virus as seen through a microscope. Credit: AFP / Getty Images
Last on

BBC World Service
South Asia
Broadcasts
BBC World Service

Australasia

BBC World Service

except News Internet

BBC World Service

Australasia

BBC World Service

except Australasia & News Internet

BBC World Service

Australasia

BBC World Service

South Asia