Main content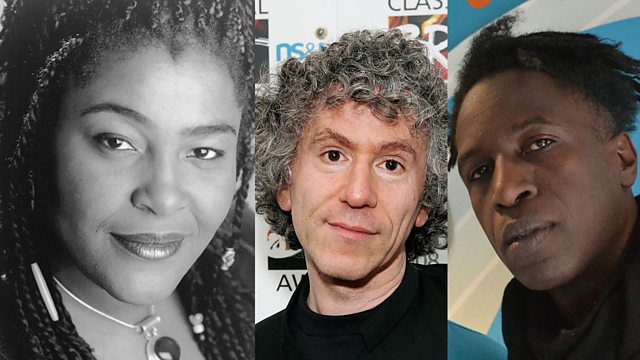 Sharon D Clarke, Steven Isserlis, Saul Williams
Sharon D Clarke on playing Ma Rainey, often referred to as the Mother of the Blues.
Saul Williams tells us about collecting field recordings for his new album and juggling his music career with his poetry and screen-writing. Sharon D Clarke celebrates the 'Mother of the Blues' - Ma Rainey. And, we bring you a truly global music collaboration between traditional Indonesian instruments and a 'didgeribone'.
The Pulitzer prize-winning author Elizabeth Strout discusses her writing process. We find out how Disney heroines are changing. Steven Isserlis reveals his fear of Bach's Cello Suites and saxophonist Moreira Chonguica explores the special relationship between him and his sax.
(Photo shows: Sharon D Clarke (c) Royal National Theatre, Steven Isserlis (c) Rosie Greenaway/Getty Images, Saul Williams)
Music and featured items
Saul Williams

Rapper, singer-songwriter, musician, poet, writer, and actor

Duration: 09:41

Sharon D Clarke

The actor and singer on playing Ma Rainey, often referred to as the Mother of the Blues

Duration: 06:32

Efiq Zulfiqar

Indonesian multi-instrumentalist discusses his latest work

Duration: 06:45

Elizabeth Strout

Pulitzer Prize winner Elizabeth Strout talks about her new novel

Duration: 08:20

Steven Isserlis

Cellist Steven Isserlis on his new recording of the Elgar Cello Concerto

Duration: 09:46

John Lasseter

We talk to the American animator and film maker John Lasseter

Duration: 04:29

Moreira Chonguica

The Mozambican saxophonist talks about his most recent album

Duration: 00:25

Moreira Chonguica

Moreira Chonguica is a Mozambican saxophonist, composer, ethnomusicologist and producer. His sound is described as contemporary African jazz, and his most recent album was a departure from the previous four, as it was recorded live in Maputo.

Photo: Kim Chakanetsa, BBC Africa