Main content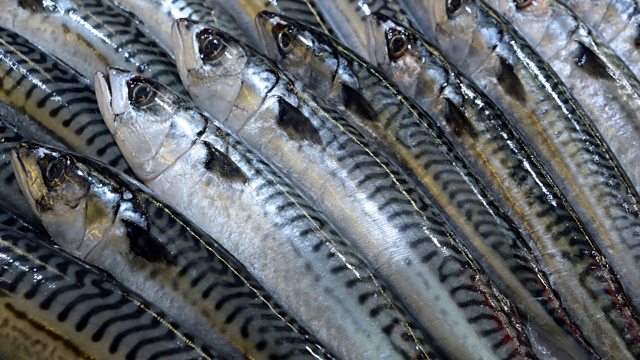 Eating Seafood Linked to Less Alzheimer's in the Brain
Does eating fish lower your Alzheimer's risk? Is fat really the evil in our diet or has it been misunderstood? And could the time of day you take exams affect your grades?
In the past, studies have suggested that people who eat seafood at least once a week are less likely to develop dementia. The problem is that fish contains mercury, which is known to be toxic to the brain. So to find out whether mercury might counteract the beneficial effects of eating fish, a team from Rush University Medical Center in Chicago followed a cohort of older people without signs of dementia and monitored their fish intake over several years. In addition, and this is where the study is unique, the participants also agreed to donate their brains after they died, enabling the researchers to look for signs of Alzheimer's neuropathology. Professor Martha C Morris is first author of the paper, which has just been published in the Journal of the American Medical Association (JAMA).
High or Low Fat Diet?
The advice to cut fat has been used by health bodies for decades, but was the message to reduce fat oversimplified in a drive to get us to eat less saturated fat? Fat now seems to be making something of a comeback with some arguing that a high carbohydrate diet is actually what is causing our obesity epidemic, a major contributor to heart disease and the driving force behind insulin resistance and diabetes. However are we simply trading one form of blame for another? In the second of Health Check's series on food dilemmas, James Gallagher has been investigating.
Timing of School Tests
The school day for lower secondary schools in Denmark has recently been lengthened and is now around a third longer than it used to be, resulting in eight hours more a week for the children. But researchers wondered whether these changes enable children to learn more and whether they are affected by fatigue later in the day. So they conducted a study involving every child between the ages of eight and fifteen in public schools and examined their mandatory test results - a dataset of around two million tests.
The results, just published in the Proceedings of the National Academy of Sciences (PNAS), illustrated that the time of day when tests were taken made a difference to the results and not quite in the way we might expect. Hans Henrik Sievertsen, from the Danish National Centre for Social Research, is first author of the paper and explains what they found.
(Photo: Mackerel fish. Credit: Jean-Pierr Muller/AFP/Getty Image)
Last on
BBC World Service
East Asia, Europe and the Middle East, East and Southern Africa, West and Central Africa & South Asia only
Broadcasts
BBC World Service

Americas and the Caribbean, Online, Europe and the Middle East & UK DAB/Freeview only

BBC World Service

Australasia, East Asia, South Asia & West and Central Africa only

BBC World Service

Americas and the Caribbean

BBC World Service

Online, Europe and the Middle East, East Asia & UK DAB/Freeview only

BBC World Service

South Asia

BBC World Service

Australasia

BBC World Service

East and Southern Africa & Europe and the Middle East only

BBC World Service

Online & UK DAB/Freeview only

BBC World Service

East Asia, Europe and the Middle East, East and Southern Africa, West and Central Africa & South Asia only