Main content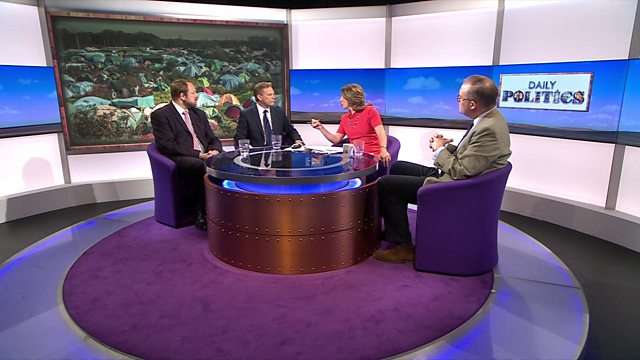 PM 'resorting to scaremongering' over EU
Conservative MP John Baron has criticised the prime minister for claiming migrant camps like the "Jungle" in Calais could move to England if the UK left the EU.
"Unfortunately I think he's resorting to panic and scaremongering," Mr Baron told the Daily Politics. He said Downing Street was in "panic mode" because the proposed UK-EU deal is "not holding water".
Also discussing the latest on the EU referendum were guests of the day Grant Shapps and Toby Perkins.
Mr Shapps, ex-Conservative party chairman, said he was awaiting the outcome of the renegotiation before deciding how to vote, and said of the migrant camp warning: "This is not the issue that I will be deciding on.
"What I will decide on is is it better for the country economically and politically to be in or out."
Mr Perkins, Labour's shadow defence minister, said those campaigning to leave the EU could not say what Britain's future outside the bloc would look like.
Duration:
More clips from 08/02/2016
More clips from Daily Politics