Main content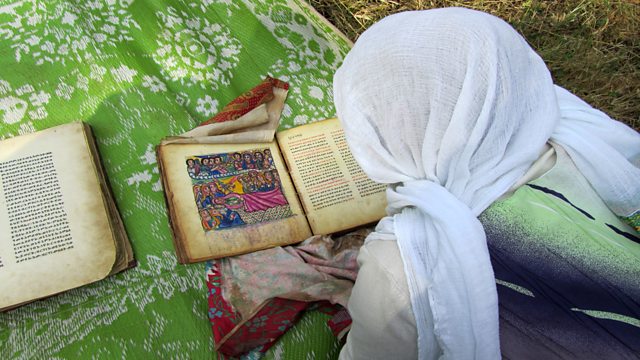 Machine Translation: The End of the Human Translator?
Machine versus human translator - will new technology mean the end of the human translator?
Translating from one language to another is fraught with difficulty – capturing exact words can be hard enough let alone more subtle meanings like metaphor, pathos, or culturally specific references and phrases. But machine translation is even more complex, although it is developing at a very rapid pace and both text and voice can now be translated very quickly. Bridget Kendall and guests explore whether machine translation means an end to human translators and what impact it might have on our desire and ability to learn and immerse ourselves in other languages.
(Photo: Scholar reading Walatta Petros manuscript at monastery. Credit: Wendy L.Belcher)
Last on

BBC World Service
Australasia
Vikram Dendi
Vikram Dendi is the Strategy Director for Microsoft Research and acts as the Technical & Strategy Advisor to the Head of Microsoft Research, based in Washington State, USA.

Vikram has been at Microsoft Research for five years. Prior responsibilities included helping transform research technologies like machine translation. He was responsible for shaping the product direction and business strategy for Microsoft's translation platform, which is used by most major Microsoft products, including Bing, Office and Windows, as well as many partner products such as Facebook, eBay and Twitter.

Vikram's research interests include Computer Human Interaction, Social Computing, Intelligent Interfaces and Software Agents.
Wendy Belcher
Wendy Belcher is Associate Professor of medieval, early modern and modern African literature at Princeton University in the USA.

Prof. Belcher has been studying African literature for over two decades and is working, through research and translation, to bring attention to early African literature, particularly that written in African languages. With Dr Michael Kleiner she translated from the original Gəˁəz (classical Ethiopic) what is possibly the first biography of an African woman: The Life and Struggles of Our Mother Walatta Petros.

Wendy's research interests emerge from her experiences growing up in East and West Africa, where she became fascinated with the richness of Ghanaian and Ethiopian intellectual traditions.
Daniel Hahn
Daniel Hahn is a British writer, editor and translator.

His translations from Portuguese, Spanish and French include fiction from Europe, Africa and the Americas, and non-fiction by writers ranging from Portuguese Nobel laureate José Saramago to Brazilian footballer Pelé. He has served as chair of the Translators Association and national programme director of the British Centre for Literary Translation, and is currently chair of the Society of Authors. He serves on the board of trustees of a number of organisations working with literature, literacy and free expression, including English PEN, Pop Up and Modern Poetry in Translation. Daniel is interested in how the job of translator is changing to encompass a more ambassadorial and advocacy role.
Broadcasts
BBC World Service

except Americas and the Caribbean, Australasia & News Internet

BBC World Service

Americas and the Caribbean

BBC World Service

except News Internet

BBC World Service

Australasia

BBC World Service

except News Internet

BBC World Service

Australasia