Main content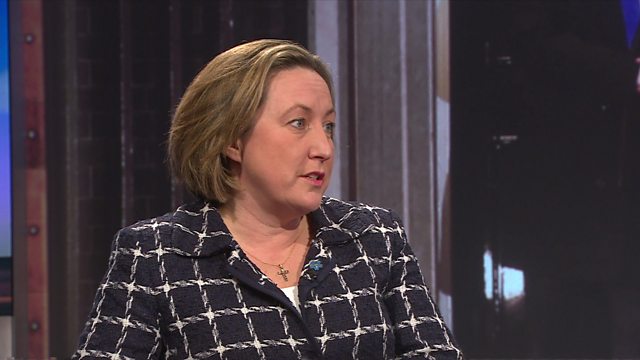 Tory MP 'frustrated' with EU renegotiation
Anne-Marie Trevelyan says PM has asked for little 'and isn't getting what he's asking for'
A Conservative Eurosceptic MP has expressed her frustration with the renegotiation on the UK's terms of membership of the EU.
Talking about proposals for an "emergency brake" on benefits, Anne-Marie Trevelyan told the Daily Politics: "What this feels like is EU technocrats, yet again, controlling the decisions."
She added: "David Cameron's asked for very little in the very first place. My frustration is that he isn't even getting what he's asking for, so for me that isn't enough."
Meanwhile, Lib Dem MP Norman Lamb said a four-year brake on EU migrant benefits was a "reasonable proposition". But he said the issue was a "bit of a sideshow" set against the central question of whether "our destiny is in Europe or should we retreat from that".
Similarly, Labour's Matthew Pennycook said it was "pretty trivial stuff", telling Jo Coburn: "What we need to get on to is the bigger question of is our future in Europe or out."
The exchanges came as the UK claimed "progress" had been made in the renegotiation but there was "more work to do", during a "crucial" day of talks between British and EU officials.
Duration:
More clips from 01/02/2016

More clips from Daily Politics