Main content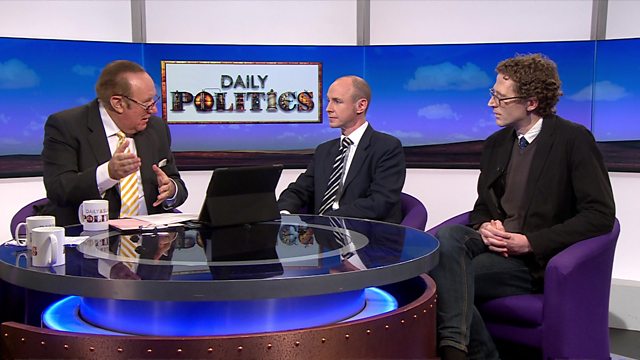 Is an 'emergency brake' on benefits a good idea?
Tory MEP Dan Hannan, Centre for European Reform's John Springford and guests discuss
A plan for a so-called "emergency brake" on in-work benefits for migrants has been put forward as a way to break the deadlock in talks over the UK's EU membership.
Discussing the proposal on Friday's Daily Politics, Conservative MEP Dan Hannan criticised the idea.
"We don't want an emergency brake. We want to grab the steering wheel back before we hit that car crash," he said.
Under the proposals, Britain could initiate a request for the emergency brake for up to four years if it could prove Britain's social and welfare system is under excessive strain from immigration - and it would have to be approved by the majority of other EU member states.
John Springford, from the Centre for European Reform, told Andrew Neil: "The point of having a single market for labour is that workers can move around the single market and not be discriminated against by their host state.
"It makes sense... that the EU would decide whether a welfare system was being overwhelmed or not."
They were joined by guests of the day, journalist and broadcaster Julia Hartley-Brewer and Daily Mirror associate editor Kevin Maguire.
Duration:
More clips from 29/01/2016

More clips from Daily Politics