Main content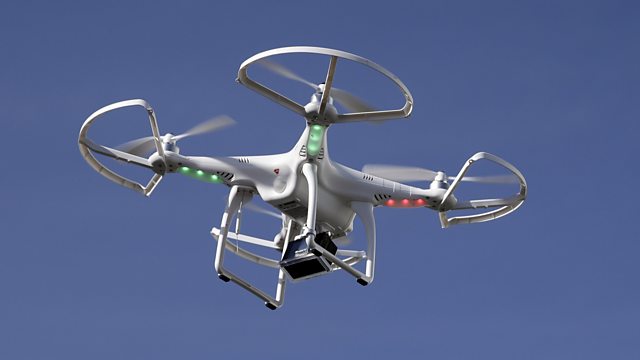 Hostile Drones a Threat to Airplanes
Hostile drones pose a threat to airplanes; Self-regulating batteries; Digital art on the Electronic Superhighway; Fabulous Beasts brings innovation to games
Aviation authorities are becoming increasingly worried about the incursion of drones into their airspace and getting close to planes. But if the near misses are unintentional, what are the threats posed by the intentional incursions? Civilian drones can potentially be used by terrorists. A new report by the think tank Open Briefing for the Oxford Research Group suggests stricter regulation and countermeasures are needed. Click talks to the author of the report, Chris Abbott.
Self-Regulating Batteries
The danger of batteries causing fires when they get too hot has been a constant cause of concern. But researchers at Stanford University may have come up with a solution – a battery that shuts off when it gets too hot and starts back up when it cools down. Click talks to the leading researcher, Professor Zhenan Bao.
Electronic Superhighway (Part One)
The world of art has incrementally embraced digital technologies over the last 50 years. A spectacular new exhibition at the Whitechapel Gallery in London charts the inexorable rise of digital art. In the first of two reports, Lauren Hutchinson talks to the curator Omar Kholeif and the author and designer Douglas Coupland about how artists have exploited technological advances in their work.
Fabulous Beasts
Alex Fleetwood's Fabulous Beasts has already been hailed as a pioneering game. It was nurtured through the REACT Play Sandbox scheme and funded by the Arts and Humanities Research Council. The game has already picked up a best new tech award along the way to its recent kickstarter campaign - 3D printing, Arduino, and Autodesk have all been employed in bringing a game to life that ultimately aims to make the digital world physical. Alex Fleetwood demonstrates his game on Click.
(Photo: A drone flies at the International Consumer Electronics Show in Las Vegas © Jae C. Hong/AP)
Last on

BBC World Service US Public Radio
Broadcasts
BBC World Service

UK DAB/Freeview, Online, Europe and the Middle East & Americas and the Caribbean only

BBC World Service

East Asia, Australasia, South Asia & West and Central Africa only

BBC World Service

Americas and the Caribbean

BBC World Service

Online, Europe and the Middle East, East Asia & UK DAB/Freeview only

BBC World Service

South Asia

BBC World Service

Australasia

BBC World Service

East and Southern Africa & Europe and the Middle East only

BBC World Service US Public Radio

BBC World Service

Online & UK DAB/Freeview only

BBC World Service

East Asia, Europe and the Middle East, South Asia, East and Southern Africa & West and Central Africa only

BBC World Service US Public Radio