Main content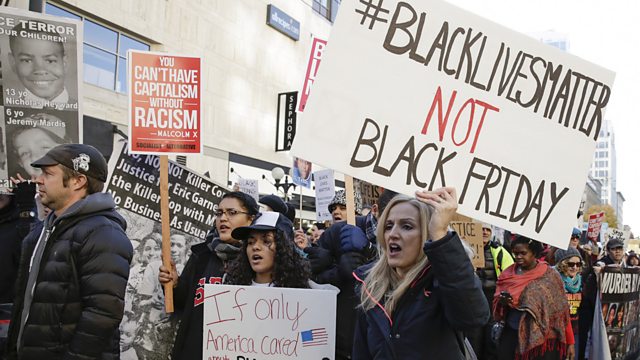 Black Lives Matter: The Story of a Slogan
Can Black Lives Matter, an emotive and controversial movement organised around a hashtag, change America?
Can the Black Lives Matter movement change America? It has become a familiar pattern over the last 18 months, in cities across the United States. An African-American is killed by police. News crews descend on the city. Protests break out - occasionally leading to arrests, or riots. And online, one phrase trends - 'Black Lives Matter'.
The slogan was coined after a jury acquitted a Florida neighbourhood watch volunteer, George Zimmerman, of the murder of black teenager Treyvon Martin. It was a polarising decision, and young activists were so upset about the verdict that their heartfelt Facebook posts and tweets became the basis of a grassroots movement. But it was events in Ferguson, Missouri which turned those words into a worldwide rallying cry.
Activists poured in to protest the shooting death of Mike Brown. The events of one day in August 2014 are among the most disputed in recent American history. A federal investigation found no grounds to press charges against Darren Wilson, the police officer who shot Brown, but many people refuse to accept its conclusions, and a separate report did find systemic abuse of the civil rights of black people by local police. Mike Brown's father tells us he's heartened by the reaction to his son's death hopeful that his son's death will lead to change in America.
Although the protests in Ferguson led to violence - both police and protesters point the finger at the other side for causing it - it also thrust the slogan 'Black Lives Matter' into the spotlight. Activists returned to their home towns with a renewed sense of purpose. The movement has picked up steam with every report of a police shooting, or death in police custody, and many are trying to broaden the agenda to include education, economics, and politics – all of which, they say, are affected by the lingering effects of slavery and racism in America today.
It's often been controversial – many are opposed to the movement, and they have their own hash tags: 'All Lives Matter' and the pro-police 'BlueLivesMatter'. Some law enforcement officials blame the movement for what's called the "Ferguson effect" – where cops are holding back for fear of being accused of being racist. They say it's hurting their ability to fight crime.
Within the movement itself, there are broad areas of consensus but also disagreements about tactics and goals. Some believe in working within the political system – raising money, meeting with police and politicians and devoting energy to conventional politics. Others believe the activism should stay staunchly outside the system, and concentrate on community organising, confrontational protest and civil disobedience.
Mukul Devichand and Mike Wendling have been traveling around the United States, talking to Black Lives Matter activists, the parents of young black men shot by police, civil rights elders like the Rev. Jesse Jackson, and police officials. In an election year that will be crucial to the country's future, can Black Lives Matter change America?
(Photo: People march at a Black Lives Matter protest on Black Friday in Seattle, Washington, 2015. Credit: Jason Redmond/AFP/Getty Images)
Last on
BBC World Service
Australasia
Broadcasts
BBC World Service

except News Internet

BBC World Service

except Australasia, East and Southern Africa, News Internet & West and Central Africa

BBC World Service

East and Southern Africa & West and Central Africa only

BBC World Service US Public Radio

BBC World Service

except News Internet

BBC World Service

Australasia

BBC World Service

except News Internet

&

BBC World Service US Public Radio

BBC World Service

Australasia