Main content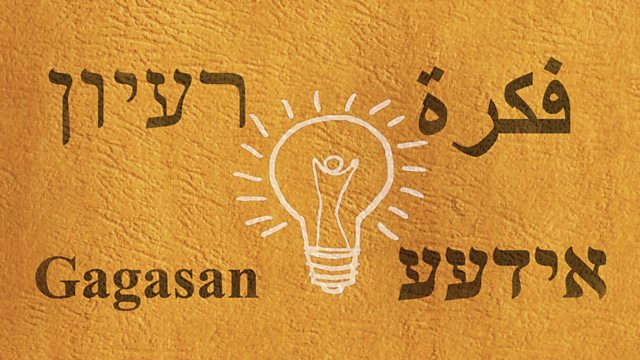 Reawakening Language
Reawakening language and culture with linguists Mark Turin, Ghil'ad Zuckermann and Candace Kaleimamoowahinekapu Galla
Many of us are fluent in at least one language and some people are proficient in two, three, four or even more. But not all languages around the world are in good health. In fact it is thought that at least half of the languages that are alive today could cease to be spoken by the end of this century. What can we do about it? How do you re-awaken hibernating or dying languages and the cultures that go with them? Or, is some extinction inevitable? Bridget Kendall discusses the positive things that are happening with some minority languages, focusing on Australia, Nepal and Hawaii with linguists Professor Ghil'ad Zuckermann and Dr. Candace Kaleimamoowahinekapu Galla and anthropologist Dr. Mark Turin.
(Photo: Idea written (clockwise from top) in Hebrew, Arabic, Yiddish and Indonesian. Illustration by Shan Pillay)
Last on
BBC World Service
Australasia
Mark Turin
Dr. Mark Turin is an anthropologist, linguist and Associate Professor of Anthropology at the University of British Columbia and Chair of the First Nations and Endangered Languages Program.

His research interests are language conservation, documentation and endangerment; orality, archives and cultural heritage. For over twenty years, his regional focus has been the Himalayan region (particularly Nepal, northern India and Bhutan), and more recently, the Pacific Northwest.

He directs two international research initiatives, Digital Himalaya and the World Oral Literature Project.

His office and home are located on the traditional, ancestral, unceded territory of the hən̓q̓əmin̓əm̓-speaking Musqueam people.
Ghil'ad Zuckermann
Professor Zuckermann is Chair of Linguistics and Endangered Languages and Professor at the University of Adelaide, Australia. He is Distinguished Visiting Professor at Shanghai Jiao Tong University (China) and at the Weizmann Institute of Science (Israel), and serves as Editorial Board member of the Journal of Language Contact.

He is a leading expert of 'Revivalistics', a new trans-disciplinary field of enquiry surrounding language reclamation, revitalization and re-invigoration. He is particularly interested in multiple causation, cross-fertilization and horizontal gene transfer in languages, and the relationship between language and identity. 

Ghil'ad's linguistic interests are wide ranging but on this 'Forum' he focuses on indigenous languages in Australia.
Candace Galla
Dr. Candace Kaleimamoowahinekapu Galla is an indigenous language advocate, educator and researcher. She is an assistant professor in First Nations Languages and Education at the Department of Language & Literacy Education at The University of British Columbia, Vancouver, Canada.

Candace was born in Hilo, Hawai'i. and raised in a sugar plantation town, Pahala, in Kaʻū. She studied in Hawaii before moving to Tucson, Arizona, for university.

Candace returned to Hawaiʻi to take up the role of Visiting Assistant Professor in Ka Haka ʻUla O Keʻelikōlani College of Hawaiian Language at the University of Hawaiʻi in Hilo, before moving to British Columbia, where she now lives.
Broadcasts
BBC World Service

except Americas and the Caribbean, Australasia & News Internet

BBC World Service

Americas and the Caribbean

BBC World Service

Australasia

BBC World Service

except News Internet

BBC World Service

Australasia