Main content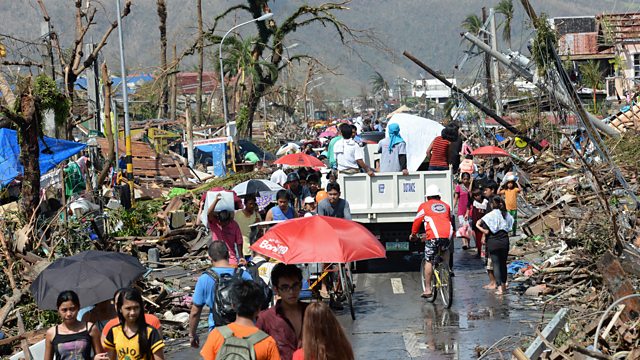 What Value is SMS in SOS Situations?
The value of SMS in SOS situations; A GyroGlove to help with Parkinson's disease; Ambulance chasers and social networks; the Europeana Sounds Project.
Social media and SMS platforms are often promoted as tools to collect feedback from disaster affected populations and to increase accountability and transparency. But does it actually work? The Humanitarian Technologies research Project, has just published a report on the use of digital communication technologies following Typhoon Haiyan in 2013. Click discusses digital humanitarianism with Ushahidi's Juliana Rotich and Ken Banks of kiwanja.net.
GyroGlove
The GyroGlove developed by medics offers potential benefit to patients suffering from Parkinson's disease. The doctors have developed a prototype glove that use gyroscopes to instantaneously and proportionally resist a person's hand movement, thereby dampening any tremors in the wearer's hand. The developer, Faii Ong, from Imperial College London, demonstrates the glove.
Ambulance Chasers and Social Networks
A US politician wants to introduce a bill to fine people who take out their phones at the site of an accident and then post pictures of the scene up on social network sites. John Carney has said he really wants to start a debate about the morality of amateurs taking and posting such photos. Click talks to Tiger Robinson, a first responder to emergencies in Arkansaw and also hears from James Temperton from Wired.
The Europeana Sounds Project
The Europeana Sounds project gathers sound files (speech, radio programmes, environmental sounds) to make them more widely available. One way of doing this is to release them under Creative Commons licenses, uploading them to Wikimedia and holding editathons where participants learn how to add these audio files to Wikipedia pages. Click's Julia Lorke reports.
(Photo: Residents walk through debris and toppled power lines in Tacloban City, Philippines, three days after devastating Typhoon Haiyan © Ted Aljibe/AFP/Getty Images)
Last on
BBC World Service
East and Southern Africa, East Asia, Europe and the Middle East, South Asia & West and Central Africa only
Broadcasts
BBC World Service

Americas and the Caribbean, Online, Europe and the Middle East & UK DAB/Freeview only

BBC World Service

East Asia, Australasia, South Asia & West and Central Africa only

BBC World Service

Americas and the Caribbean

BBC World Service

Online, East Asia, Europe and the Middle East & UK DAB/Freeview only

BBC World Service

South Asia

BBC World Service

Australasia

BBC World Service

East and Southern Africa & Europe and the Middle East only

BBC World Service

Online & UK DAB/Freeview only

BBC World Service

East and Southern Africa, East Asia, Europe and the Middle East, South Asia & West and Central Africa only