Main content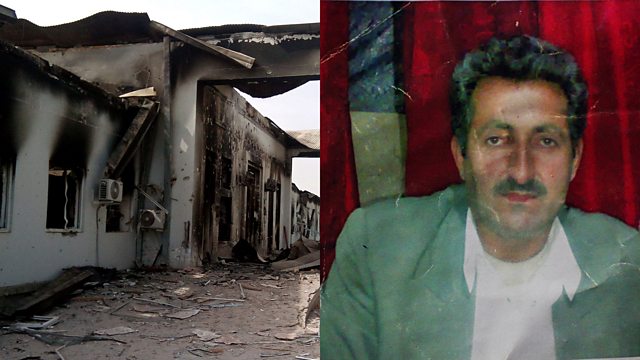 Bombed on the Operating Table
Dr Mohammed Safi Sadiqi was operating on his patient Baynazar Mohammad Nazar when the hospital was bombed. Also, Andrew Quilty, the first journalist to arrive on the scene.
In October 2015, the US airforce carried out an air strike on what crew members apparently thought was a Taliban compound in the Afghan city of Kunduz. It was, in fact, a hospital, run by Médecins Sans Frontières who say at least 42 people were killed in the attack. We hear from Andrew Quilty, the first journalist to arrive on the scene. He found a man dead on an operating table whose name was Baynazar Mohammad Nazar. Andrew not only took a photo of Baynazar but he then made it his mission to find out more about his life. We also hear from the Afghan surgeon Mohammed Safi Sadiqi who was operating on Baynazar when the bombing took place.
23 year old Nancy Sibo from Rwanda has come up with a new app called Mobile Cow which has won her the title of Rwanda's Miss Geek in a government run competition aimed at encouraging young women to start careers in IT. She tells Matthew Bannister how her interest in technology began.
Sarah Howe is a prize winning poet who has a Chinese mother and an English father. Sarah was only seven when her family moved from Hong Kong to England. So, as she grew up, her image of China was constructed from her mother's late night telling of stories of the life she'd left behind. She tells Nicki Paxman how her identity has been woven into her poetry, which has won her the UK's prestigious `T.S Elliot` Poetry Prize.
An enterprising teacher from Mali called Youchaou Traoré has founded a school for children from families who can't afford education - and the exam results are very good. As Youchaou tells Matthew, much of his own childhood was spent begging on the streets and he didn't start his own schooling until he was thirteen.
(Picture: The damaged hospital in Kunduz, credit: STR/AFP/Getty Images, and Baynazar Mohammad Nazar, credit: Andrew Quilty.)