Main content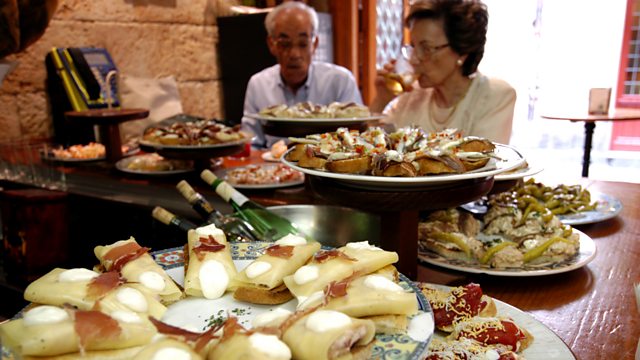 Consumption and Our Identity
We are all consumers of essentials like food, water and heat, but why has consumption become a defining feature of our lives? With Frank Trentmann, Lyla Mehta and Eduardo Gómez.
What has been driving up the global levels of consumption – need? Government policies? Or, a hunger for social status? Bridget Kendall asks the historian of consumerism Frank Trentmann, the sociologist Lyla Mehta and the political scientist Eduardo Gómez to share their thoughts.
(Photo: People consuming tapas)
Last on

BBC World Service
Australasia
Frank Trentmann
Frank Trentmann is a German specialist on consumerism and Professor of History at Birkbeck College, University London. His most recent book is Empire of Things: How we became a world of consumers, from the Fifteenth century to the Twenty-first. With an eye to the present and the future, Professor Trentmann challenges the idea that consumption originated as a purely Western phenomenon, fuelled by the US and the West in the post war 1950's. He believes that being aware of this will help us understand and control consumption today. He also argues that consumption is largely determined by states and corporations, and has much less to do with individual consumer choice than we might imagine.   
Lyla Mehta
Professor Lyla Mehta is an Indian-born sociologist whose work addresses access to water and other natural resources around the world. She has extensive field research in India, where she has studied the politics of water scarcity, and also South Africa, Ethiopia and Bangladesh. Professor Mehta argues there is a great deal of inequality in consumption around the world, and much of this has to do with gender, culture and geography. Lyla Mehta is based at the Institute of Development Studies at Sussex University in England where she is a Professorial Research Fellow, and she is also a Visiting Professor at the Norwegian University of Life Sciences in Norway.  Her most recent books include Limits to Scarcity and The politics and poetics of water.
Eduardo Gómez
Dr Eduardo J. Gómez  is a Colombian political scientist from King's College London, where he is Senior Lecturer (Associate Professor) at the King's International Development Institute.  His work tackles food consumption and public health in developing countries like Brazil, where the increase in international trade and social media means people are now consuming fatty fast foods in large amounts and developing diseases like diabetes. So from being under-nourished in these developing countries, many, apart from the very poor, have now become dangerously over-nourished. Dr Gómez explores how governments are looking to tackle the problem, and explains why Brazil is leading the field in this. He is currently completing his second book titled The De-Emerging Nations: International Politics, State-Civil Societal Ties, and the BRICS' Struggle to Eradicate Disease. 
60 second Idea to Improve the World: Slow Down Leisure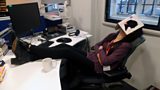 In our Sixty Second Idea to improve the world, the historian Frank Trentmann suggests slowing down leisure because he believes growth in leisure activities is a key factor in driving up consumption. He says that with all the travel and resources involved, leisure has become unsustainable. So he proposes having one hour a day where people are legally obliged to be idle. 

Photo credit: Shan Pillay
Broadcasts
BBC World Service

except Americas and the Caribbean, Australasia & News Internet

BBC World Service

Americas and the Caribbean

BBC World Service

except News Internet

BBC World Service

Australasia

BBC World Service

except News Internet

BBC World Service

Australasia