Main content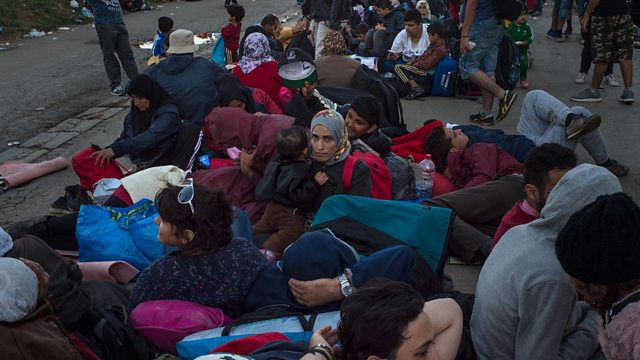 An App to Help the Health of Migrants
How a medical app is helping doctors treat migrants en route to Europe; What is the healthiest thing to eat for breakfast?; Should we all be practising mindfulness?
With many thousands of migrants from the Middle East and Africa on the move at the moment in search of safety in Europe, the current cold weather in the Balkans is having an impact on their health. Claudia speaks to a family doctor who is spending his weekends working for International Medical Corps at a camp in Sid in Serbia, helping migrants with their health problems as they pass through.
Sometimes medical staff helping migrants come across cases that are hard to diagnose or treat. And this is where a new app called MedShr could be very useful. It was designed for medical education, but then the team behind it had the idea of doctors in migrant camps using it to get advice from medical specialists around the world. So far MedShr is already being used by medics treating migrants from Syria in various countries and also in the Calais camp. Dr Asif Qasim, the founder and a cardiologist at King's College hospital in London, came into the studio to show Claudia how it works.
Breakfast: What to Eat?
What did you have for breakfast today? Last week James Gallagher, editor of the BBC's Health News website, looked into whether breakfast is as important as we are generally told it is. This week, James is looking into what you should eat if you are going to eat breakfast and want it to be as healthy as possible.
Mindfulness
Mindfulness is an ancient tradition, but is being increasingly popular throughout the world. But that popularity has also been followed by something of a backlash, with journal papers and articles saying mindfulness is not a panacea after all. Yet those who practice it often say they feel it improves their mental health. So Health Check thought they would take a good hard look at the evidence. When does mindfulness make a difference to mental health? Claudia is joined by professor Willem Kuyken, director of the Mindfulness Centre at the University of Oxford; a centre which has done some of the most influential trials on mindfulness, and Andre Tomlin, who regularly sifts the statistics for his popular blog the Mental Elf.
(Photo:Migrants gather in a holding area in Sid, Serbia. Credit: David Ramos/Getty Images)
Last on
BBC World Service
South Asia, Europe and the Middle East, East Asia, East and Southern Africa & West and Central Africa only
Broadcasts
BBC World Service

Online, Americas and the Caribbean, UK DAB/Freeview & Europe and the Middle East only

BBC World Service

Australasia, East Asia, West and Central Africa & South Asia only

BBC World Service

Americas and the Caribbean

BBC World Service

Online, UK DAB/Freeview, Europe and the Middle East & East Asia only

BBC World Service

South Asia

BBC World Service

Australasia

BBC World Service

East and Southern Africa & Europe and the Middle East only

BBC World Service

Online & UK DAB/Freeview only

BBC World Service

South Asia, Europe and the Middle East, East Asia, East and Southern Africa & West and Central Africa only