Main content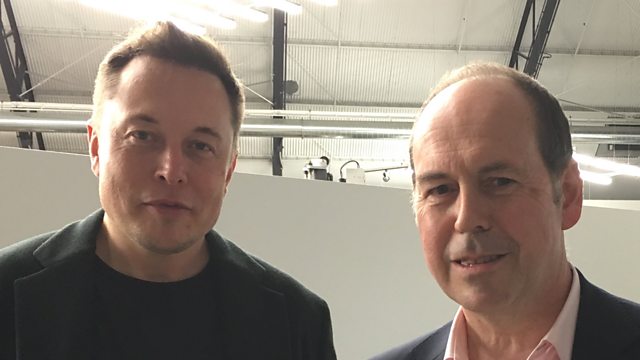 Elon Musk Saves the Day
Entrepreneur and billionaire Elon Musk dreams big, but is he a superhero? Herbert Diess explains how he's going to rescue VW. And a latterday Dr Doolittle on talking to animals.
We hear from the entrepreneur and billionaire Elon Musk, best known these days for building space rockets and designing electric cars. The BBC's Rory Cellan Jones has been sitting down with him to discuss what drives him and what will be driving the rest of us 10 years from now. Also, the head of the Volkswagen brand, Herbert Diess, describes how close his company now is to cutting a deal with US regulators over the emissions testing scandal, and how he believes VW can escape the damage it has done to its reputation.
Finally we hear from a latter-day Dr Doolittle. Animal behaviourist and conservation biologist Con Slobodchikoff has, with his Animal Language Institute, spent the last few years attempting to build machines that can decode the speech and body language of animals. He tells us how he is getting on and what it could be used for.
(Photo: Elon Musk (left) and Rory Cellan Jones)
Last on
BBC World Service
except East and Southern Africa, News Internet & West and Central Africa
Broadcasts
BBC World Service

except News Internet

BBC World Service

except East and Southern Africa, News Internet & West and Central Africa
A year of Covid in Nairobi: Josephine's story