Main content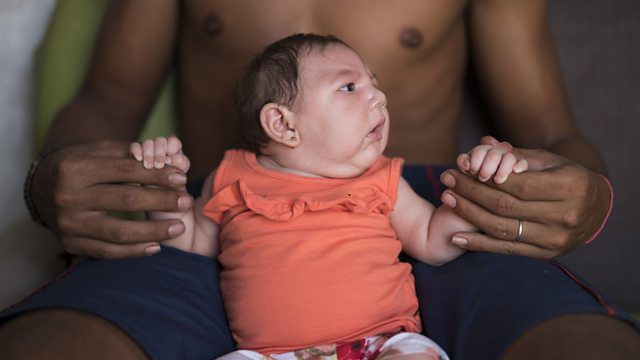 Emergency Declared After 4,000 Brazilian Babies Born with Microcephaly
Why have 4000 babies in Brazil been born with a brain that has not fully developed? Is breakfast the most important meal of the day? And, the link between El Nino and dengue.
Each year in Brazil approximately 150 babies are born with a serious condition called microcephaly, where the brain has not developed fully before birth. But last year there were almost four thousand cases. The situation is so serious that some doctors are even advising women to delay trying to get pregnant in case they contract the Zika virus, which is thought to be linked to the microcephaly epidemic. Dr Regina Coeli is a paediatric infectologist at Oswaldo Cruz Hospital, Recife, in the north-east of Brazil, the region worst affected.
Breakfast
As the new year begins it is a time of year when many people decide to try to be healthier. But when it comes to what to eat, it is not always straightforward, so over the new few weeks Health Check will be looking at various food dilemmas. This week starts with breakfast, which often said to be the most important meal of the day. But is this really true? Some scientists argue it is all a myth and that just because we keep repeating it does not make it true. So should we bother with breakfast? James Gallagher, health editor for the BBC News website has been investigating.
El Nino and Dengue
The El Nino weather phenomenon emerging at the moment is expected to be the most intense in nearly two decades and the fear is that it will lead to more serious epidemics of dengue fever across South-East Asia this year. Dengue is a mosquito borne disease and the capability to transmit to humans varies a lot by temperature and rain. Mosquitoes breed in water and the higher temperatures allow mosquitoes to breed, reproduce and transmit the virus more efficiently.
For the first time a team of epidemiologists at the University of Pittsburgh in the US have analysed a huge data set; 3.5 million cases of dengue reported in South-East Asia over the past 18 years. They found that in the years following 1997 the whole region was affected with far more cases that usual. This coincided with the strongest El Nino of the century. Leading the team was Dr Wilbert Van Panhuis, from the University of Pittsburgh Graduate School of Public Health.
(Photo: Baby born with microcephaly © Felipe Dana/AP)
Last on

BBC World Service
Europe and the Middle East, East Asia, East and Southern Africa, West and Central Africa & South Asia only