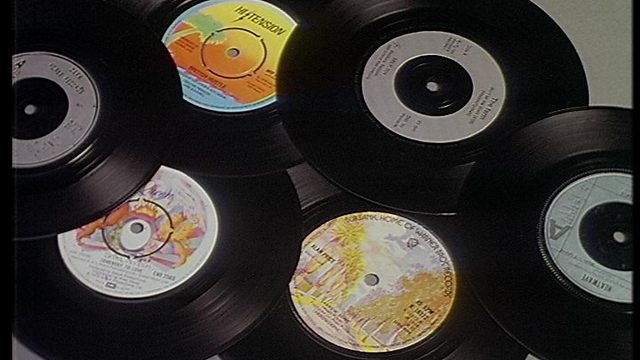 Hot For 2016
Andrew Marston and Andy O'Hare count down their top ten tunes from the last 12 months.
Andrew Marston's Top Ten
So here it is then! The most-anticipated show we do all year long; the top ten tracks from the past twelve months. I still insist on listening to every track from start to finish and I'm still a firm believer that if you can't name your favourite songs at a click of your finger - they can't be your favourite songs!
#1: Molly Ann - Rise (Bewdley)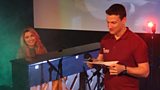 One of the great things about hosting the type of show that I do, is I get sent so much music, I never need to hear the same track twice. 
 
From the moment I first set my ears across this artist, I was hooked and every second I had available I'd shut my eyes and just absorb the beauty of this incredible song.
 
And what firmly puts this at number one is if she hadn't have written this stunning track, her other release 'Home' would have clinched the number one position instead.
 
Listening to such a huge variety of musical styles is what makes me...well, me. But this was the song that broke all of my rules.
 
Check out her live session...
#2: Rebekah Buffong - Move (Redditch)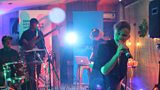 This year, I've literally received thousands of tracks - just from Herefordshire & Worcestershire!

Recently, I've been on a personal mission to share the love around! So instead of always playing my favourite records on the radio - which might result in me playing 10 great records by the same artists, I chose to play 10 great artists instead. 
To put that into perspective, it's taken me 3 years to finally play everyone I've ever wanted to. 
Which leads me to 21-year-old Redditch producer Rebekah Buffong. I've received what I consider to be hit after hit after hit from her - and while she probably feels like her airplay has been minimal, my love of her music has been of the highest possible order. 
Check out her live session...
#3: Willow Robinson - Hope In Our Eyes (Hay-on-Wye)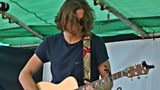 For ten years now, I've been at the helm of the BBC Introducing show for this area.
Back when I started, there were about 15 Herefordshire bands for every Worcestershire band. Worcester, dare I say it, was silent. But boy, how the tables have turned. 
Now we're probably looking at around 30 or 40 Worcestershire bands for every Herefordshire band; it became such a problem, I now have a playlist of active Herefordshire acts. But surprisingly, despite the incredible imbalance - it seems almost every local artists that has had national exposure over these last 12 months is from Herefordshire (not including acts such as Ellie Goulding and Years & Years). 
Step forth Willow Robinson. He lives in Hay, his dad is a Hollywood actor and producer, and he studied guitar in LA. Well, he's now back on the local music scene and Alan McGee - who discovered Oasis, Primal Scream and The Libertines - is now personally managing him. 
Check out his live session...
#4: Goldman - The Fall (Ross-on-Wye)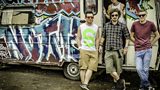 This group are on fire! When I met them, they said their biggest problem was they wrote three minute pop songs that sound great up loud on the radio. And they weren't wrong!

Producer Alex Ross - from Ross (!) - was the man behind the Nick Clegg I'm Sorry remix and they used to work in Bristol making ringtones. 
They've recently signed a publishing deal and I, for one, can't wait until their album The Goldman Show drops in the imminent future. 
Check out their live session...
#5: Maiday - Wish You'd Met Me First (Worcestershire)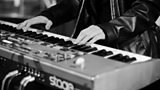 When we first started, there were questions as to whether there was enough good music around to sustain a weekly two hour radio show.
 
The one thing I've noticed over time is that standard has got increasingly higher. Not only has the cost of home recording plummeted, but so have studio prices. Plus, people listen to the radio and sometimes realise they need to do a bit more work to reach the standard of the other tracks! People always say "you must get so many bad songs" and normally my response is "it's actually a really difficult decision of who to play in two hours we're given" and I'm riddled with guilt for everybody who doesn't get on.
 
But this year has been a real kick in the teeth - as more BBC Introducing initiatives have opened up, people aren't hearing that benchmark and are discovering us via other means - and it's quite possibly been the one of the worst years for music, which has made my job incredibly easy!!
 
So when you're driving along and you've heard 40, 50 or 60 'alrightish' tracks, including many that make you want to climb up the walls, a song like this is your saving grace. Rachel Moulden, from Worcestershire, goes under the name of Maiday and this was one of those moments where I had to change my route home so I could listen to this up loud about 10 more times! Epic.
#6: Chris & Nick Johnson - Broken Hearts & Carpet Burns (Redditch)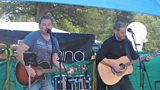 "An oldie, but a goodie"! Chris & Nick Johnson wrote this track yonks ago - but never did anything with it! Then one day, they were listening to the radio and thought "we should send that in"!

Within days of releasing the track free from their hard drive, they'd become BBC Introducing Track Of The Week and landed a slot on our stage at the Colwall Family Music Festival. 
Oh - and they can play just as well live! 
Check out their live session...
#7: Abby Inez - Invisible (Droitwich)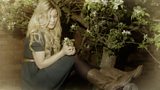 One of the finest country stars in the making.
The exceptionally beautiful and talented Abby Inez has been writing songs since she was just 14-year-old. Now in her late teens, she's already performed all over Nashville, got into the iTunes singer/songwriter charts, opened for Katy Perry and Dolly Parton and has been on tour with The Shires. 
Expect an incredible future from this incredible girl. 
Check out her live session...
#8: AKA George - Return Of The Fever (Leominster)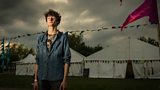 It's not the first time Leominster's George Barnett has made it into my top tens.
Actually, he first sent his music into me in 2013 and, soon after, I invited him to record a session with us at SnodFest near Pershore. At the same time, I passed his track No I.D.ea onto BBC Radio 1 who added it to their daytime playlist. Because of this success, I invited him back as a special guest on the BBC Introducing stage at Wychwood the following year. Then he released Animal Keeper - which got back on Radio 1. See where this is going? 
Well, Radio 2 then picked him up and he got to perform in Hyde Park twice! 
He's been releasing a song per month along with some stunning music videos - and this is one of those creations. 
Check out his live session...
#9: Peter & The Harmonics - Miss You (Hereford)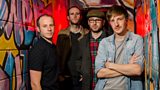 You may notice that, this year, there isn't a single track in our top tens from Peace, Ellie Goulding, Robert Plant, Becky Hill or Years & Years - all of whom have released top 40 singles in the last 12 months. That's because Andy and I firmly believe that these songs are better!

When people ask how we put together the top tens - I say "simple - if you listen to as much music as we do, I firmly believe that anybody would come up with the same songs - but not necessarily in the same order". Andy asked me an hour ago "who's in your top tens" - so even us two don't discuss our choices. And the surprising thing is we both had Bren Haze, Scott Howland/Done By Sunrise, Barefoot In Baltimore, Wynnona Ryyder, The Bleeding Hearts and Raptor in our top tens - so we only differed on 4 songs! 
So in the interest of not playing the same record twice, we were able to include another 6 records in this year's countdown. 
Peter & The Harmonics is my first Hereford choice. I actually went to college with the drummer, who'd regularly jam with Andrew Easton and me on keys! But despite us knowing one another, his band are absolutely first class and it was a real pleasure to be able to host them on our stage at this year's LakeFest, fresh off the back of their BBC Introducing Track Of The Week playlist spot. 
Check out their live session...
#10: Shooze - Cruel Love (Redditch)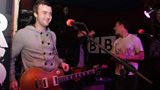 You'd be amazed how many acts that come from Bromsgrove, Kidderminster and Redditch who claim to be from Birmingham. It really is a missed opportunity.

For a long time, I've said you stand greater chance of achieving success by becoming the King of somewhere than the King of nowhere. Imagine trying to get gigs, national festival slots, airplay and ultimately a record contract in a county like Herefordshire where everyone knows you verses the same number of opportunities in somewhere like London, Birmingham or Manchester. And with so many bands who'd give their right arm to be at the front of the queue, a lot of these have become pay-to-play cities. So when a band are too embarrassed to say they're from Worcestershire - in terms of this top ten, it made it even easier to select the acts I want to champion. 
One such band who are proud of their Redditch roots are this group. They were called New Killer Shoes, Shooze and are now UK Fedz. That's the biggest obstacle facing them right now - as soon as they get a bit of traction under the one name (whether that's BBC Introducing Track Of The Week, Tom Robinson support on BBC 6 Music or touring with Adam & The Ants), they go and change it. But I absolutely love the anger, the punk, the reggae and the passion that have become their consistent ingredients. They also remind me of those great experimental bands of the 80s fused with the powerhouse of Sting-esque vocals. 
Check out their live session...
Honourable Mentions
Ok, well why don't I tell you the rest of the songs that I wanted to shoe-horn into my countdown? Here they are, in order!
#11. Mr Robinson - Bury Me Good (Worcester)
#12. Ben Stancombe ft Richard Farmer - Higher (Bromsgrove)
#13. Wet Desert - Roses Sting (Stourport)
#14. Khemikal - Without You (Worcester)
#15. Bo Walton - Now I'm In Love (Marden)
#16. Red.Soul - Dreams Are High (Hereford)
#17. Cherryshoes - Ride On (Hay-on-Wye)
#18. Emily Ewing - Fairytale (Evesham)
#19. Stone Cold Killers - Stone Cold Killer (Worcester)
#20. Stewart Wallace - Off That Alcohol (Bromsgrove)
#21. Ben Vickers - Justice Is Forever (Worcester)
#22. There Was A Crooked Man - Everything's Going My Way Now (Garway)
#23. Roving Crows - Casanova Is Burning (Ledbury)
#24. Alex Rainsford - Lighter Mind (Bromsgrove)
#25. Interior Castle - Listen & Talk (Hagley)
#26. Dan Hattersley - Freefall (Hereford)
#27. red:line:ratio - Had It All (Bromsgrove)
#28. Space Jump Salute - Breathe (Redditch)
#29: Rueben Buffong - Changes (Life's A Book) (Redditch)
#30: Halogen - Gorillaz In The Mist (Bromsgrove)
#31: Tale Lights - My Reality (Bromsgrove)
#32: Synthetic Epiphany - Emerald Daze (Kings Thorn)
#33: Chase The Deer - Think (Worcester)
#34: Mottis - How Can I (Leominster)
#35: The Callout - Red Light Nightlife (Redditch)
#36: Lauren Nicole - We're Gonna Be Ok (Bromsgrove)
#37: Mikks Tape - Gotta Keep Movin On (Redditch)
Andy O'Hare's Top Ten
Here's my pick of the best songs from the choicest acts I've seen in 2015. Please remember that my own preference is for live gigs - so it's all bands or acts who I've personally seen and met during the year!
#1: Wyynona Ryyder - G.O. Blues (Hereford)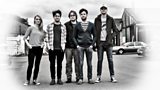 They sessioned with us late in 2014 and have to say I didn't really pick up at the time on this Hereford band who've got a wonderful pedigree in outfits like Denyer, Apples, Original Bondage and Brandon Steep until their session actually went out.
 
The title refers to Great Ormond Street Hospital and it's a tale of raw emotion about childhood illnesses.
 
They were the closing act on our stage at Lakefest earlier in the year and it's gotta be something pretty special to make my #1 spot...

#2: Bleeding Hearts - Democracy (Ledbury/Stourport)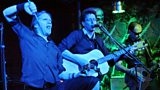 They celebrated their 20th anniversary as a band this year and it was a real privilege to pop along to their birthday bash at the Boar's Head in Kidderminster.

They had a rammed Pig & Drum pogo-ing at my Worcester Music Festival promo and I really think that 2016 could be their year! 
They also topped our Saturday line-up at our August three-dayer and this is the opening number recorded live at Lakefest.
Check out their live session...
#3: Wrong Planet Syndrome - Something For The Pain (Malvern)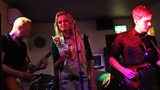 This number could easily have been my #1 this year.
 
Amorphica from Malvern played a storming set at my own Worcester Music Festival promotion and are still finalising their line-up.
 
I reckon it'll be a cracking 2016 for the outfit with Tallulah Fix roots, but I just prefer the production of this number from their previous lineup - what do you think?
#4: Tyler Massey - Whipping Boy (Malvern)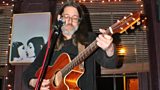 It's not often that you hear a song and realise that it isn't just good but it's great!
 
The more I hear this number from the West Virginian ex-pat, now resident in West Malvern, I think that it's in the same class as the best protest numbers from Bob Dylan and Woody Guthrie.
 
It was a bit of a late scramble to get this recorded and uploaded to us by 'Mr Malvern himself' - but it arrived just in time!
#5: Doctor Wolfe - She's Leaving (Worcester/Malvern)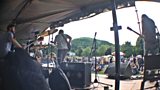 This is a great rocking number that was probably the very first track I shortlisted early in the year.
 
This Worcester and Malvern outfit have a fine history in acts like Blue Radio, Jasper and Gobi - and played a storming set at Mappfest.
 
Fronted up by Jim Allin and a bunch of total quality musos, they're a kicking band that I'd love to see gigging a whole bunch more - and a lot wider afield!
#6: Lucia Nicole - Just Stop (Hereford)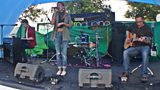 We first came across this Hereford lass when she provided vocals for Matt Envy's session at Nozstock.
This year, however, she's really come to the fore as an artist in her own right playing one of the great gigs of the year at her debut single launch at the Venue. 
Credit to her, as well, for toughing it through one of the coldest days of the year in mid-summer as she recorded her own session with us at Colwall. 
Check out her live session...
#7: Barefoot In Baltimore - Ritchie Didn't Know My Name (Redditch)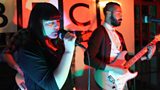 Contrary to some reports, we've found ourselves that the Redditch music scene couldn't be in better shape - as you'll also discover when you hear our session bands throughout January!
 
This band's singer Taylor and guitarist Leroy tied the knot earlier this year in Gretna Green and played a cracking set at my own Worcester Music Festival promotion.
 
They've been described as 'shoegazing one minute then rocking like a kid with ADHD the next'.
#8: Bren Haze - Let Her Go (Hereford)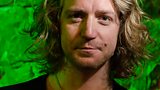 This lad from Hereford knocked us out when he sessioned for us a while back.
He guested for us at Lakefest this year and took part in one of my gigs of the year at the newly-revived Venue in Hereford.  
He's got a totally distinctive stage presence - appearing to play two guitars at once and someone (I wonder who that could be?) described him as 'a true star in the making' - and we couldn't agree more! 
Check out his live session...
#9: Done By Sunrise - Be My Sunshine (Worcester)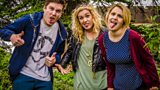 This is another outfit who I've been privileged to follow right from the start as they cut their teeth at every open mic night possible.

Siblings Jodie, Loren and Scott have had a great year organising and running the Severn Sounds Festival as well as assisting with Upton and Worcester Music Festivals. 
They've also released their first album; this song has a definite summery feel to it! 
Check out their live session...
#10: Raptor - Been Too Long (Leominster)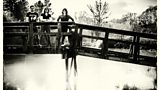 I've been lucky enough to see and hear this act develop virtually from their very first gig to a small bunch of family and friends in Hereford.

They played a cracking set at the Herdsman in November (now I'd love to see that venue used regularly again) and have been described as 'come to rescue rock 'n' roll'. 
While they were at Nozstock they featured on BBC Midlands Today, they released their debut EP in March and have started playing further afield - great times ahead! 
Check out their live session...
Honourable Mentions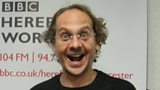 Hot For 2016: Just about every other act I saw last year could so easily have been included. There were narrow misses this time round for Real Time Apollo and Missing Sparrows, but I'm expecting great things from these guys very soon!
 
Gig Of The Year: We had a fantastic Wychwood and Lakefest with so many great local acts. I was especially impressed, earlier in the year, with Jake Gamble and Wyynona Ryyder at the Barrels in Hereford and Byron Hare (now Shrinking Violets), The Hungry Ghosts and Abel Gray at Death Or Glory Records in Redditch, but I'd probably have to say my favourite was at the Venue in Hereford in November with Bekki Cameron, Bren Haze and Lucia Nicole - an absolute stunner of a gig - exactly what I go out for hoping to see!
 
Not quite my gig of the year: My 'moment' has to be interviewing Loyd Grossman at the Cube in Malvern just before his band the New Forbidden played their support slot to Babajack's 'live' album launch. This was a double rescue in that the album had to be re-recorded after the original take at the Royal Albert Hall couldn't be used - and a great job by Andrew in rescuing my pretty poor original recording - including a great soundbite from Loyd!
 
Festivals of the year: I especially liked Wychwood, Lakefest, Worcester, Bromyard Folk, Upton (Blues/Jazz/Folk/Upton), One Love, Malvern Rocks, Mappfest and others - and we're hoping to do even more next year!