Main content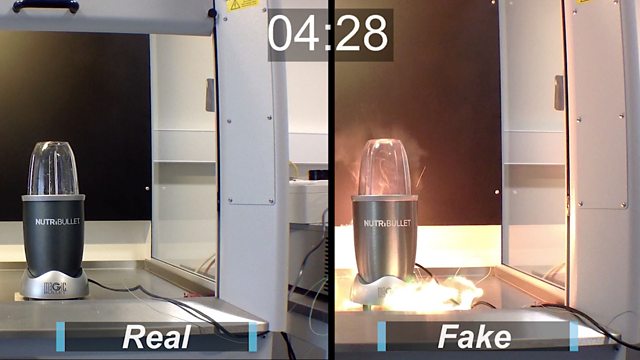 Fake Nutribullet explodes in safety test after 4 seconds
Over one million people are buying counterfeit electrical products in the UK every year, according to Electrical Safety First.
Steve Curtler, the charity's product safety manager, told the BBC that the products, many of which could be found online, often did "not work" and could be a "potential fire risk, electric shock risk."
To illustrate the dangers, 5 live Investigates went to the TÜV Rheinland laboratory with the charity to test a genuine Nutribullet blender and a fake.
Whilst simulating what would happen if a piece of ice or stone jammed in the blades, the genuine product passed the safety test. However, the fake product exploded after just 4.28 seconds.
Nutribullet's UK distributor, High Street TV, said Nutribullet was independently tested to ensure that it met all UK and European safety regulations. They recommended only purchasing the product direct from approved stockists.
This clip is originally from 5 live Investigates on Sunday 13 December 2015.
Duration: