Main content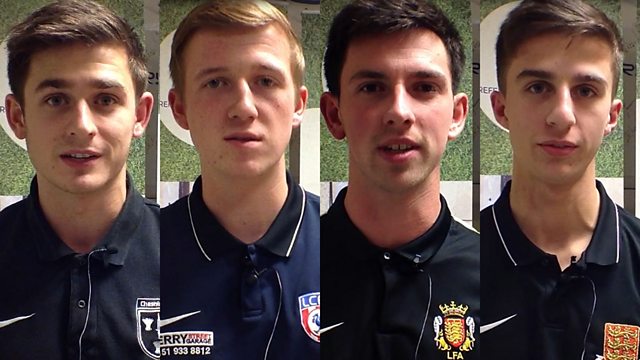 Abused referee: 'He threatened to kill me'
One in five football referees say they are verbally abused in every match, according to a new survey.
Sixty percent of football referees say they experience verbal abuse on a regular basis, according to a new survey.
Over 2,000 referees, mostly from grassroots levels, took part in the survey carried out jointly by academics from Loughborough, Portsmouth and Edge Hill Universities. Although they acknowledge problems are rare, many have encountered aggression. Some 19% said they had experienced physical abuse.
5 live investigates spoke to four referees at a training event about the worst incidents of abuse they had experienced while on the pitch. Ben Atkinson said one player, from a distance, threatened to kill him.
"I knew it was an empty threat. But in the same game on the way off the pitch I had five or six of the same team trying to get to me," he said.
"I ended up with about seven league officials try to create a barrier."
In response to the survey a Football Association statement said "extreme incidents such as referee assaults thankfully remain few and far between".
"Across an estimated 1.2 million games last season the number of reported incidents amounted to a tiny fraction of one per cent - which puts the scale of the problem into context. However there is no room for complacency, The FA remains vigilant and takes the view that one serious assault is one too many."
This clip is from 5 live Investigates on Sunday 6 December.
Duration:
Featured in...
The best current affairs interviews, insight and analysis from BBC Radio 5 live.
More clips from In Short