Main content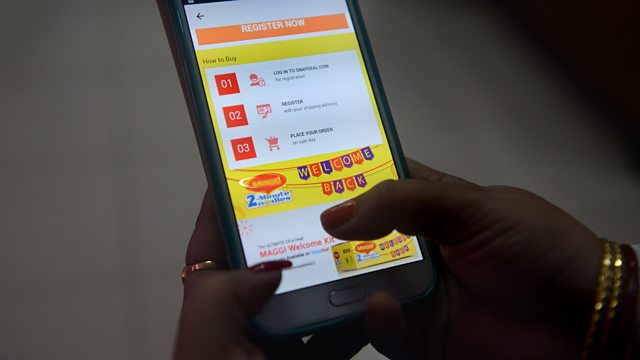 Online Shopping, Indian Style
Shopping in India is traditionally a hands-on experience but many are embracing the online shopping revolution. How are businesses innovating to meeting the challenges?
Shopping in India is traditionally an intensely hands-on experience - no vegetable or item of clothing is bought without thorough inspection, discussion and haggling. But millions of Indians are now embracing the new online shopping opportunities. While few people own credit cards or computers, reliable internet access remains patchy and delivery of the last mile is rife with problems, e-commerce companies are innovating hard to meet India's very particular challenges. In a country of 1.2 billion people, the prize is huge.
At the frontline of this online shopping revolution is a new breed of smart motorbike couriers with their giant delivery sacks who can be seen criss-crossing Indian cities daily. In the run-up to this year's Indian festival of Diwali when e-commerce companies are drawing record numbers of shoppers online with seasonal sales and massive discounts, Mukti Jain Campion spends a day with one such courier in Bangalore, meeting customers on their doorsteps to discover what Indians are buying and why.
She also talks to Amit Agarwal who launched Amazon India two years ago and says India is already predicted to become the second biggest Amazon market in the world, as cheaper, faster mobile data allows more Indians to purchase on their smartphones. And she travels beyond the city limits to discover an innovative approach to bring online shopping to less tech-savvy consumers in the villages and small towns where the majority of Indians still live.
(Photo: An Indian woman registers on the e-commerce website Snapdeal. Credit: Diptendu Dutta/AFP/Getty Images)