Main content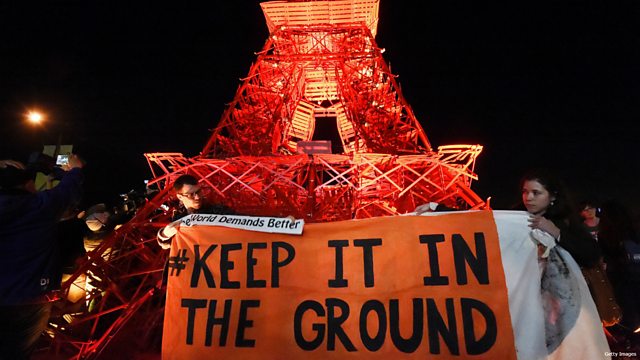 Rich and Poor Nations Form Alliance to Tackle Global Warming
Developed and developing nations have formed a new alliance at the climate change talks. We'll ask how far this will go to boost the chances of a final deal on global warming.
There's been a breakthrough at the Paris climate talks. The United States and the European Union have formed an alliance with 79 African, Caribbean and Pacific countries. They say they're keen to impose a tougher target when it comes to limiting global warming. The EU will also pay over $500m to support climate action in developing nations. We hear from Andrew Friedman, science editor of Mashable, who's in Paris for the talks.
Africa is a continent rich in precious resources, with fabulous mineral wealth, including copper, diamonds, gold and oil. But, because of a slowing global economy, commodity prices are tumbling - which means those resources are becoming less precious by the day. Now the World Bank has highlighted Zambia as one of Africa's hardest hit countries. We'll hear a report from the BBC's Matthew Davies in Lusaka.
Another African nation which needs to diversify is Uganda. Traditionally its economy has been focused on agriculture, but the internet giant Google recently launched a wi-fi network across the capital, Kampala. It's part of Google's Project Link, which aims to help people in developing countries access cheaper and better Internet. Kampala is the first city in the world where the initiative has gone live. The BBC's Catherine Byaruhanga assesses its impact.
Teenage children working on tobacco farms in the United States face a difficult and dangerous job. And not enough is being done to protect them. That's the view of a new report from the campaign group Human Rights Watch. It says 16 and 17 year old tobacco labourers are being exposed to nicotine, toxic pesticides and extreme heat. And it's making them ill. 17 year old Ana tells of her experience working in tobacco fields in North Carolina. Is this something the industry accepts? We ask the chief executive of the International Tobacco Growers Association.
Picture: Protesters at the COP21 climate summit in Le Bourget, Paris. Picture credit: Getty Images