Main content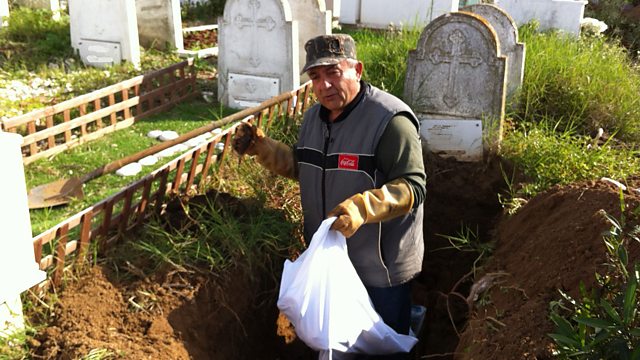 Greece: No Place to Die
Greek cemeteries have run out of space so the dead are exhumed after just three years. In the only EU country without a crematorium the cash strapped population has few options.
They say you can't take it with you but if you live in Greece how much money you have at the end of your life makes a big difference. Permanent plots in the country's packed cemeteries can cost as much as a small flat so most graves are rented for a three year period and once that time is up the dead are exhumed and their bones collapsed into a small box to be kept at the cemetery. Those relatives who can't afford the cost of the exhumation or the storage charge for the box of bones will have their loved one's remains thrown in a so called 'digestion' pit with countless others' where they are dissolved with chemicals. In the current economic climate and with continued capital controls, Greeks are struggling to pay for the burial costs and unclaimed bodies are piling up at mortuaries. But there are few cost effective alternatives because Greece happens to be the only EU country without a crematorium* – each time plans have been made to build one it has been blocked by the Greek Orthodox Church. Instead Greeks are forced to send their relatives' bodies to Bulgaria for cremation. For Assignment, Chloe Hadjimatheou reports on the business of dying in Greece.
*we have since amended the programme to reflect the fact that Greece is the only country on mainland Europe without a crematorium.
Produced by David Edmonds
(Photo: Grave Digger Petros Bakirtzis works in a cemetery where around 15 bodies are exhumed every day.)
Broadcasts
BBC World Service

except Americas and the Caribbean, Australasia, East and Southern Africa & West and Central Africa