Main content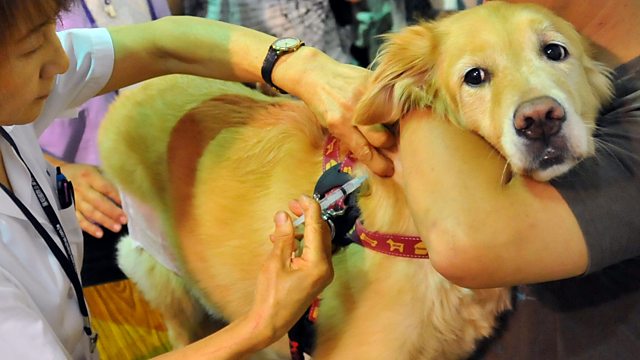 How Family Pets can Spread Antibiotic Resistance
The spread of antibiotic resistance by family pets, Remembering a random list of more than 50 dates and cities, Attempts to reduce the spread of TB in South African prisons.
Just like humans, dogs and cats are often prescribed antibiotics if they have an infection. The growing numbers of bacteria becoming resistant to certain antibiotics and the need to ensure that doctors do not give out too many to their patients is well known, but less considered is the impact that pets can have. There is evidence that they can spread antibiotic resistance to humans, so Public Health England is now calling for pet owners to take steps to prevent it. David Heymann is Professor of Infectious Disease Epidemiology at the London School of Hygiene and Tropical Medicine and he explains the risks from small animals.
Memory Palace
Techniques that can be used to remember things, particularly lists, have been in existence for a long time. One is called the method of loci or memory palace, where a person creates a story with each of the items they are trying to remember. By placing characters from the story in a familiar place, it helps to better memorise the sequence. Claudia was challenged to have a go and so who better to learn from than world memory champion Ed Cooke. He can memorise 2,265 digits in 30 minutes and the order of 16 packs of playing cards in just an hour. Claudia meets him in the London street where she used to live.
Claudia's task was to memorise 50 years of cities hosting the world figure skating championships. Until the challenge, she did not know a single one of them. Psychologist professor David Shanks, who is a leading authority on memory, joins Claudia in the studio for the big test.
TB South Africa
South Africa has one of the highest rates of tuberculosis in the world. One group of people particularly vulnerable to contracting it are prisoners, whose close confines put them at high risk. But a recent programme to help find and treat those infected with TB is lowering their risk, as well as reduce the spread of the disease. Meera Senthilingam reports from a prison in Cape Town.
(Photo: A dog gets injected by veterinary staff. Credit: Getty Images)
Last on
BBC World Service
except Online, Americas and the Caribbean, Australasia & UK DAB/Freeview
Broadcasts
BBC World Service

Americas and the Caribbean, Online, Europe and the Middle East & UK DAB/Freeview only

BBC World Service

Australasia, East Asia, South Asia & West and Central Africa only

BBC World Service

Americas and the Caribbean

BBC World Service

Online, East Asia, Europe and the Middle East & UK DAB/Freeview only

BBC World Service

South Asia

BBC World Service

Australasia

BBC World Service

East and Southern Africa & Europe and the Middle East only

BBC World Service

Online & UK DAB/Freeview only

BBC World Service

except Online, Americas and the Caribbean, Australasia & UK DAB/Freeview