Main content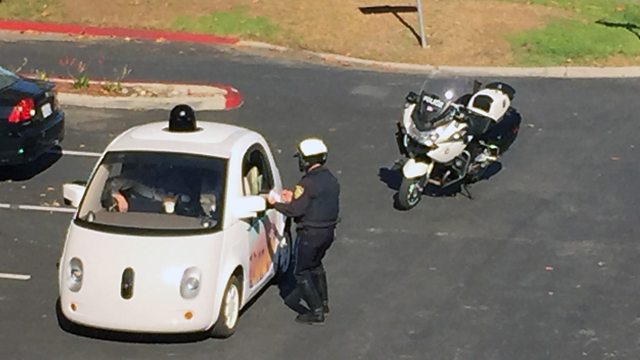 Autonomous Car Dangerously Slow
Google's autonomous car caught driving too slowly, Compensation for robots taking your job, Social media freeing up journalism in Africa, How to record better audio.
Google has limited the speed of its autonomous cars to 25mph – used in specified allowable areas. But one car was too slow for a traffic cop who pulled over the driverless vehicle and contacted the remote operators. What does this mean for the state of advance of driverless cars, and how does this relate to the semi-autonomous Tesla cars whom the manufacturers, worried about drivers abusing the technology, have imposed constraints, limiting the functionality. Click talks to the robotics navigation expert, John Leonard from MIT.
Utrecht Trial of a Universal Basic Income
A trial is underway discouraging compensating people with money for not working. It comes on the back of concerns that many of our jobs will be taken by robots in the future. Richard Walker reports.
MeCoDem: Media Conflict and Democratisation
At a time when radio stations are under attack in some parts of Africa, new media offers the only real alternative to the dissemination of reliable information. Click hears about a conference on media, elections and conflicts in Africa, held in Oxford in southern England and talks to two of the organisers, Marie-Soleil Frère and Nicole Stremlau.
Sound Improvement
Researchers in the UK have just finished a project to correcting problems when recording audio from devices such as mobile phones (Eg wind noise and distortion) to alert people in advance of pressing the record button about wind noise or other distortions. Behind the App are psychoacoustic experiments to work out when recording errors are audible and what features of the wind noise degrade quality. Click talks to the key researcher, professor Trevor Cox.
(Photo: A California police officer pulls over a self-driving car specially designed by Google © AP)
Last on
BBC World Service
except Online, Americas and the Caribbean, Australasia & UK DAB/Freeview
Broadcasts
BBC World Service

Americas and the Caribbean, Online, UK DAB/Freeview & Europe and the Middle East only

BBC World Service

Australasia, South Asia, East Asia & West and Central Africa only

BBC World Service

Americas and the Caribbean

BBC World Service

Online, UK DAB/Freeview, Europe and the Middle East & East Asia only

BBC World Service

South Asia

BBC World Service

Australasia

BBC World Service

East and Southern Africa & Europe and the Middle East only

BBC World Service

Online & UK DAB/Freeview only

BBC World Service

except Online, Americas and the Caribbean, Australasia & UK DAB/Freeview