Main content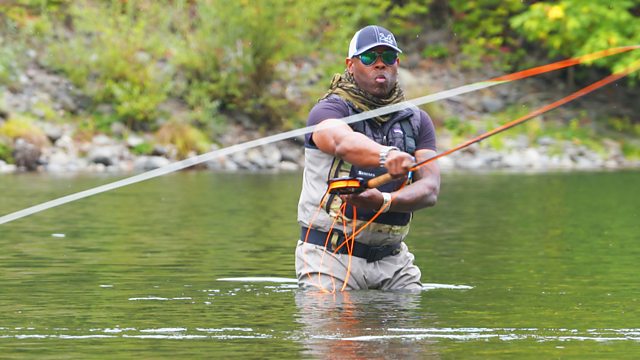 Fishing for a New Life
Chad Brown's life fell apart after he returned home from serving with the US Navy in Somalia. He tells Jo Fidgen how fishing helped him deal with the trauma he had suffered.
Chad Brown joined the US Navy as a young man in 1991, and two years later, was involved in the fighting in Somalia. During his time there, Chad experienced some truly horrible things, and when he returned home his life fell apart. After time in a psychiatric unit, Chad was about to give up on life - when a friend took him fishing for the first time. He tells Jo Fidgen how it transformed his life.
In the mountains of Mexico, there is a ritual dance that is so extraordinary that the United Nation's cultural organisation has given it protected status. It involves five dancers at the top of a 30 metre pole, who leap off, attached only by a long thin cord. It is spectacular and the people who perform it are called the Voladores of Puebla, the 'flying people'. Our reporter Judi Herman went to meet them when they were performing in London.
Farzana Wahidy is a pioneering and award-winning photographer in Afghanistan. She is well known for her photographs of Afghan women and girls, showing the world from their perspective. Sometimes that means taking pictures through a burka - the head-to-toe covering that women had to wear in Afghanistan during the rule of the Taliban. Farzana tells Jo Fidgen about her childhood and why she wanted to become a photographer.
Some people will pay millions of dollars for a violin with a top pedigree. Instruments made by Stradivarius are the most famous - but there are many others which come with a big price tag attached. James Buchanan is an Englishman who specialises in tracking down rare violins, and who puts on an exhibition of some of the finest examples for dealers and collectors to admire, try out, and maybe bid for. Jo Fidgen went to meet him.
(Photo: Chad Brown casting a fishing line into a river. Credit: Brian Chou)
Last on
BBC World Service
East Asia & South Asia only
Broadcasts
BBC World Service

except East and Southern Africa & West and Central Africa

BBC World Service

East and Southern Africa

BBC World Service

except Americas and the Caribbean & Australasia

BBC World Service

Australasia

BBC World Service

Americas and the Caribbean

BBC World Service

East Asia & South Asia only