Main content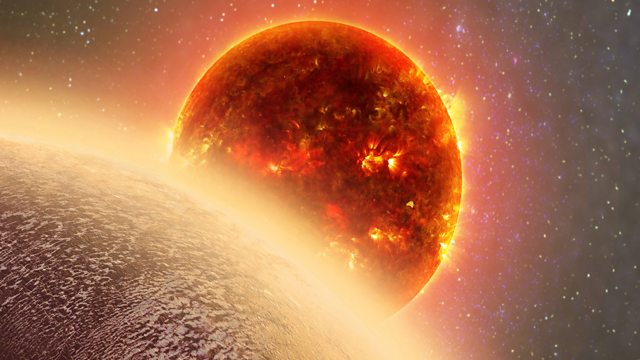 New Earth-like Exoplanet Discovered
New Earth-like planet; Sterilisation injection; Burnt bones and forensic info; Largest crystal structure model; SeaWorld's killer whale act; Shrinking snowpacks; Syringes
The discovery of a rocky planet similar to Earth in size and density was published in the journal Nature this week. Professor Drake Deming from the University of Maryland explains why this is arguably the most important planet ever found outside the Solar System.
Single Shot Sterilisation Injection
A single shot injection that can sterilise both male and female animals has been developed by US researchers. The method works in mice, and could provide a quick, simple, and effective alternative to spaying and neutering. Jack Stewart went to meet the mice making history.
Analysing Burnt Bones
BBC Science News correspondent Jonathan Webb talks about how scientists are trying to extract forensic information from burnt bones.
Largest Crystal Structure Model
The largest crystal structure model in the world is being built in the courtyard of the Vienna City Hall.
SeaWorld Cuts Killer Whale Display
Controversial displays by killer whales will cease in California after 2017.
Shrinking Snowpacks
Declining snowpacks could reduce freshwater availability for 2 billion people in the northern hemisphere. Dr Justin Mankin discusses the research and the implications for water management in the critical areas to prevent water shortages. The research is published in the journal Environmental Research Letters.
History of the Future
BBC News journalist Melissa Hogenboom continues her exploration of the history of the future at the Science Museum in London. This week, she looks at the development of the disposable plastic hypodermic syringe.
Photo: Artist's rendering of GJ 1132b, a rocky exoplanet very similar to Earth in size and mass © Dana Berry)
Last on
BBC World Service
except Online, Americas and the Caribbean, Australasia & UK DAB/Freeview
Clips

Broadcasts
BBC World Service

UK DAB/Freeview, Online, Europe and the Middle East & Americas and the Caribbean only

BBC World Service

West and Central Africa, East Asia, South Asia & Australasia only

BBC World Service

Americas and the Caribbean

BBC World Service

UK DAB/Freeview, Online, Europe and the Middle East & East Asia only

BBC World Service

South Asia

BBC World Service

Australasia

BBC World Service

Europe and the Middle East & East and Southern Africa only

BBC World Service

UK DAB/Freeview & Online only

BBC World Service

except Online, Americas and the Caribbean, Australasia & UK DAB/Freeview