Main content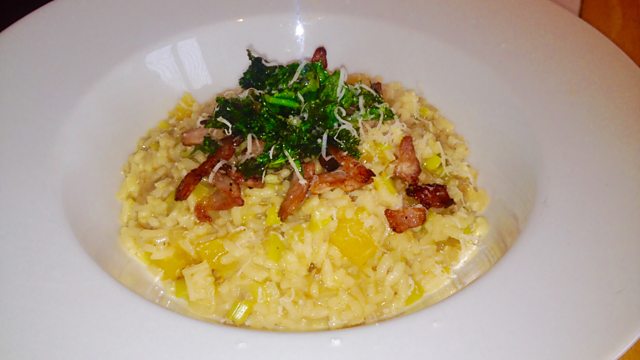 Food Friday - Pumpkin Risotto.
For this week's Food Friday - an Autumnal risotto from Janine Finch
Pumpkin risotto with pearl barley, leeks and bacon topped with crispy kale
An Autumnal risotto that is a great alternative recipe for over Halloween, Bonfire night or when you just when you want to do that little something special.
A fab seasonal dish using the mighty Pumpkin, a great way of using them up as many get thrown in the bin or not bought at all.
You can even get the children involved in helping squeezing out all the orange coloured flesh.
Use the Seeds by roasting them in the oven as a tasty snack and if you have any Risotto leftover, make Arancini the next day.
Ingredients:
1-2 tbsp Rapeseed oil
2-3 handfuls of Carnaroli risotto rice
a good splash of dry white wine
a handful of pearl barley cooked in a little chicken stock
1 clove of garlic finely chopped
1 medium sized onion diced finely
1/4 leek sliced
1/4 small farmed pumpkin peeled and diced
800ml homemade chicken stock or 1 gel pot chicken stock to 800ml water, can use veg stock if keeping vegetarian
2 rashers of smoked bacon sliced
Few gratings of parmesan cheese ( parmigiano regianno )
handful of unsalted butter cold and diced
cracked black pepper to season
Crispy Kale:
A few handfuls of Curly kale
2 tbsp rapeseed oil
sprinkle of sea salt to season and sugar
Method:
* Cook off pearl barley to packet instructions
* Sweat off chopped onion in a pan and cook until starting to go translucent
* Add garlic, stir and then pop in your rice. Stir but not too much.Then de glaze your pan with wine.Cook until starting to reduce.
* Add in hot Chicken stock then ladle by ladle for about 10 minutes, not allowing to stick, but not string too much as this will make the rice glutinous
* pop in your Kale in the oven on 200c or 190 fan for 5 minutes.
* Add in your chopped pumpkin and cook for further 5 minutes, then add your leek and cook for a further 3 minutes.
* Fry off your bacon in a separate pan till it goes crispy on the edges
* Add your butter to the risotto, plus a little parmesan and cracked black pepper, turn the heat off and cover with a lid.
* Serve in large bowls, top with the bacon, then kale and a snow of parmesan.
Duration:
More clips from Ben Jackson