Main content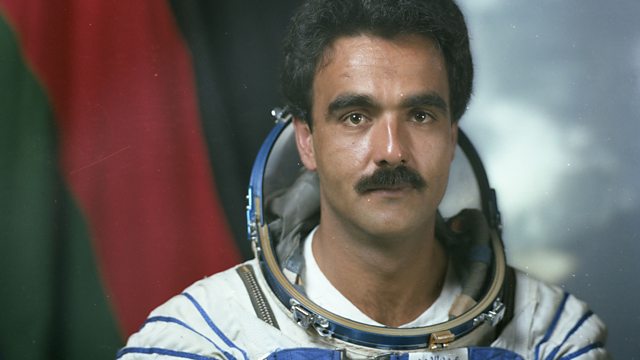 Afghan Cosmonaut Stuck in Orbit
Abdul Ahad Mohmand, Afghanistan's only cosmonaut, was returning from a space mission in 1988 when his engines failed. He tells Jo Fidgen what happened.
Abdul Ahad Mohmand is the only Afghan to have gone into space. It was 1988, in the last days of Russia's hold on Afghanistan - the country was at civil war at the time - and Abdul was given the chance to visit the Mir space station with a Russian commander. But their attempts to return to earth didn't go according to plan.
Martina Amati is a huge fan of freediving - swimming deep underwater on a single breath, without artificial help. She says she's more at home underwater than on land. She's also an award-winning filmmaker, and for her latest project, Under, she's combined her two passions - creating a multi-screen installation on the art of freediving.
What difference does it make to writing a novel if you're deaf? Sara Novic has been thinking a lot about this while writing her first novel, Girl at War. It's set in the early 1990s, and imagines what it was like to be a child during the Balkans conflict. Sara's family is from Croatia, though she was born in the US. She started to lose her hearing as a young child and by the age of eight, couldn't hear anything. She now communicates mainly through American Sign Language, but also lip-reads. She told Jo Fidgen how her hearing loss has affected her relationship with the written word.
If you ever catch a train in the Indian capital, Delhi, you may see children selling food on the platforms. A local constable, Dharamvir Singh, hated the idea that they were missing school, so he set up a classroom at one of the railway stations - and told the children that if they studied with him for an hour, he would allow them sell there.
Picture: Abdul Ahad Mohmand