Main content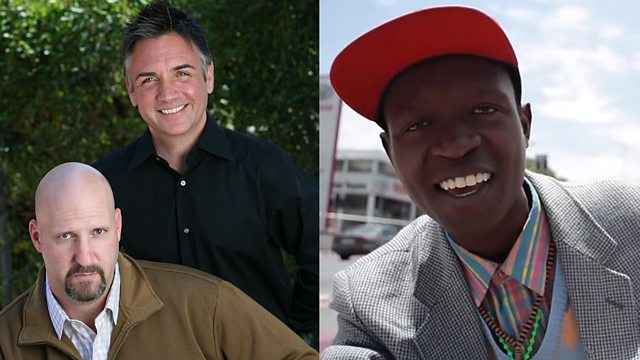 Outlook Weekend: Pick of the Week
The road to recovery: including, a homeless drug addict who says he was saved by books and the disastrous start to a friendship when one man tried to kill the other
At just fourteen, Matthew Boger was living on the streets of Los Angeles having been turfed out of the family home for being gay. One evening Matthew was attacked by an older boy named Tim Zaal who was a member of a violent gang of Neo-Nazi punk rockers. A chance meeting twenty-six years later meant the pair formed an unexpected friendship.
Philani Dladla began selling books as a way to make money whilst he was living rough under Johannesburg's Nelson Mandela Bridge. He is now known as The Pavement Bookworm. He credits books with saving his life and, having taught himself English as a child, he now dedicates his time to helping local children learn to read.
When Islamist militants took over northern Mali three years ago, one of the first things they did was ban music. Singer Aliou Toure wasted no time in getting out. He moved south to the capital, Bamako, where he formed a band called Songhoy Blues to keep the music of the north alive.
When British woman Tara Lal was just 17 she received the news that her her brother Adam, then away at university, killed himself. Tara moved from London to Sydney, Australia where she has made a new life for herself. She's written a book about her experiences called "Standing on My Brother's Shoulders" which she hopes will help people to cope with the loss of a loved one.
Rajkumari and Panilal Yadav are from a village in the western plains of Nepal where they were married when they were just 7 and 8 years old. Now they campaign against other Nepalis having to get married while still children.
Picture: : Tim Zaal, Left; Matthew Boger, Centre ;(Credit: Bart Bartholomew) and Philani Dladla, Right.