Main content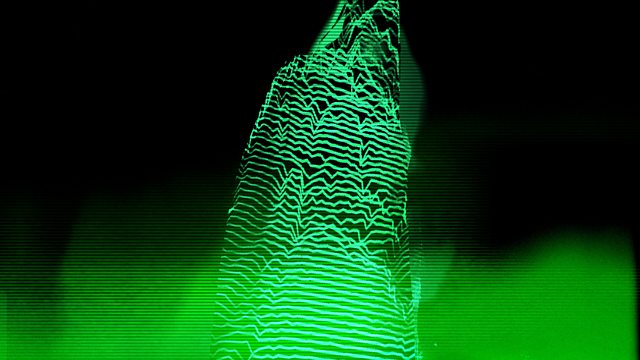 The Stone Tape in 3D Sound
Enhanced mix of the cult thriller re-imagined by British filmmaker Peter Strickland. Stars Romola Garai, Julian Rhind-Tutt, Julian Barratt. Best experienced using good headphones.
This is the specially enhanced version of The Stone Tape available online and to download via the BBC iPlayer Radio app. Pioneering sound technology from BBC Research and Development has been used to create a 3D binaural mix designed for headphones. Binaural sound gives a unique immersive listening experience, perfect for a horror drama - but only for those who dare.
The acclaimed British filmmaker Peter Strickland (Berberian Sound Studio, The Duke of Burgundy) re-imagines a classic seventies horror for Radio 4's Fright Night.
In 1979, a team of scientists moves into a new laboratory in a Victorian mansion. When Jill Greely hears a strange disembodied scream, the team decides to analyse the phenomenon, which appears to be a psychic impression trapped in the wall. The scientists begin to realise that their work has disturbed something hidden beneath the stone, something ancient and malevolent.
The original 1972 TV movie is now a cult favourite. Written by the creator of the Quatermass series Nigel Kneale, it is known for its cutting edge sound effects from the BBC Radiophonic Workshop.
This remake has been conceived by Peter Strickland in collaboration with writer Matthew Graham (Life On Mars). It features new music from James Cargill (of the band Broadcast) and sound design from Andrew Liles (Current 93, Nurse With Wound). A stellar cast includes Romola Garai (The Hour, Atonement), Julian Rhind-Tutt (Green Wing), and Julian Barratt (The Mighty Boosh), with a special cameo by the star of the original version, Jane Asher.
To get the full sensory experience of this binaural edit, it's recommended you listen to this version with a good pair of headphones.
More episodes
Previous
You are at the first episode
The enhanced uber sound mix of the psychological Japanese horror story by Koji Suzuki.

The Stone Tape director shares his favourite horror soundtracks, films and books.

Would you be the monster's first blood, or would you hang on until the end?