Main content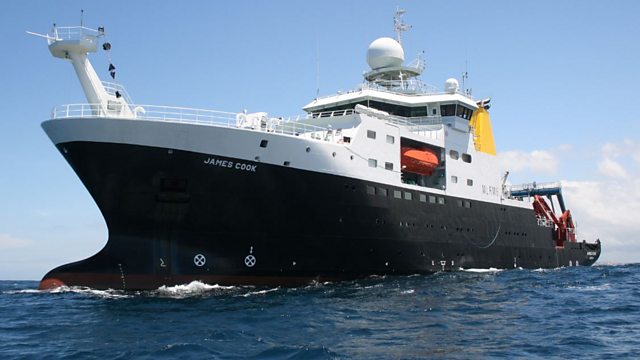 Mid-Atlantic Seabed Drilling Expedition
Atlantic seabed drilling by RRS James Cook; rocks on Mars; why snakes are slippery; crocodiles sleep one eye open; Einstein's spooky action; slippy steel; keeping food fresh.
Atlantic seabed drilling
The Royal Research Ship James Cook, will be sailing off at 9.30 am on Monday carrying several teams of scientists and 100 tonnes of equipment. The vessel is sailing to the middle of the Atlantic Ocean, just above the Atlantis Massif, to recover rock specimens using state-of-the-art drilling technology. Scientists hope to gain insights into microbial life, chemistry, and geochemistry found there from analysing the rocks.
Mars
BBC Science Correspondent Jonathan Amos explains how these Atlantic rock samples could give us clues to rocks on Mars.
Why snakes are slippery
BBC Science reporter Jonathan Webb explains why snakes may have a slippery belly
Crocodiles always keep an eye out
Birds, water mammals, and now reptiles have been shown to sleep with one eye open. Land mammals, ourselves included, seem to be the odd ones out.
Einstein's "spooky action at a distance"
Scientists from Delft in the Netherlands confirm - without any of the usual caveats - that the phenomenon Einstein called "spooky action" is real.
Slippy steel
Steel surfaces are prone to corrosion by water and salt, and abrasion by materials such as sand. They can also host microorganisms, which could lead to deadly infections. All this can be offset by a new surface coating which is the most durable anti-fouling and anti-corrosive material to date. It repels any kind of liquid even after sustaining intense mechanical abuse. If scaled to industrial levels, this coating will provide safer medical tools and implants, improve to 3D printing technology, and lead to cleaner and more cost-efficient ships.
Keeping food fresh
Melissa Hogenboom visits the Science Museum in London to find out more about the history and future of refrigeration.
(Photo caption: RRS James Cook © National Oceanography Centre )
Presenter: Jack Stewart
Producer: Ania Lichtarowicz
Assistant: Andrea Szöllössi
Broadcasts
BBC World Service

Americas and the Caribbean, Online, South Asia & UK DAB/Freeview only