Main content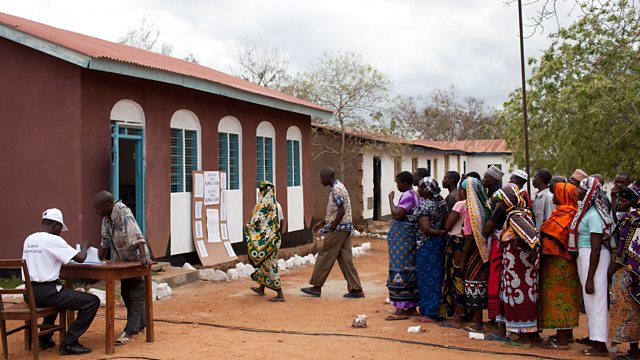 WhatsApp with the Tanzanian Election
WhatsApp and the Tanzanian election, FutureEverything goes to Singapore, Norwegian doctors and floppy disks, Turning surfaces into musical instruments with Mogees.
In the build up to elections in Tanzania, one platform seems to dominate the stage - WhatsApp. Critics say the social network platform is not being used for reasoned debate but for abuse and heavy-handed political campaigns. Click hears more from the political blogger Maxence Melo Mubyazi.
FutureEverything Goes to Singapore
The Art Science Museum in Singapore is collaborating with FutureEverything on Signals of Tomorrow conference focusing on the notion of a smart citizen and nation. Click talks to the director of the museum, Honor Harger, and to the tech expert and educator Ayesha Khanna about how technology is being used to make Singapore even smarter.
Why Norwegian Doctors Hang onto Floppy Disks
In Norway a large number of doctors are still using floppy disks, and they are clinging to older MS DOS-based electronic journals. The resulting system that employs floppy disks works very well, is cheap and efficient. But the Norwegian government plans to shut down the floppy disk option next year. Click hears from Finn Espen Gundersen why some of the old guard are unhappy.
The Musical Potential of Mogees
Mogees transforms almost any surface into a musical instrument, giving you an entire world of new creative possibilities. When stuck to an object, the Mogees sensor captures every vibration you create as you play the object. Through its recognition technology, you specify how you want to play your instrument by recording your own gestures, such as hitting, scratching or striking it in different ways. Click is joined by its co-creator, Bruno Zamborlin, for a demonstration of its musical notes.
(Photo: Tanzanian villagers wait in a line for voting in a general election at a polling station © AFP/Getty Images)
Last on

BBC World Service
Australasia
Broadcasts
BBC World Service

except East and Southern Africa & West and Central Africa

BBC World Service

East and Southern Africa & West and Central Africa only

BBC World Service

Australasia & Europe and the Middle East only

BBC World Service

Online, Americas and the Caribbean, UK DAB/Freeview & South Asia only

BBC World Service

East Asia

BBC World Service

Europe and the Middle East

BBC World Service

except Americas and the Caribbean & Australasia

BBC World Service

Australasia