Main content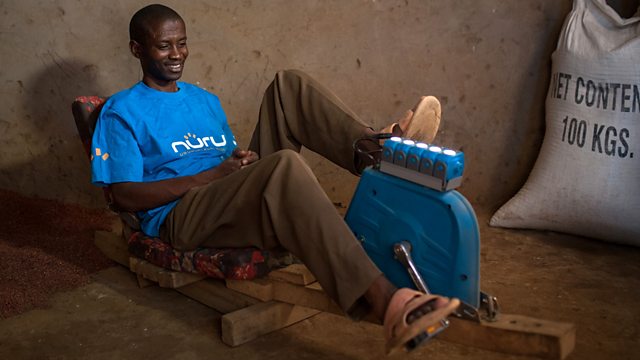 The Bicycle: Freedom Machine
Cycling for health and happiness, pedal power as a provider of light and heat and bicycles as a vehicle for women's liberation.
The importance of the bicycle around the World as a means to heat and light remote African communities, as an ideal city transport, as a vehicle for female emancipation and as a philosophy, exploring the relationship between us the bicycle. With Bridget Kendall are social enterprise guru Sameer Hajee, Helsinki city cycling planner Reetta Keisanen, historian Dr Sheila Hanlon and professor Mike Austin.
(Photo: A village level entrepreneur using a Nuru Lights device. Credit: Nuru Lights)
Sameer Hajee
Sameer Is  a social enterprise business man and CEO of Nuru Energy, an international social enterprise which is working to address the global problem of energy poverty and climate change in Africa and India. It's been seed funded by the World Bank.

Sameer does this   through the distribution of affordable LED lamps that are recharged using a human powered generator - in other words using pedal power.
Dr Sheila Hanlon
Sheila is a Canadian historian based in the UK who specialises in women's history and cycling.  She explores cycling as an instrument for the Suffragette's cause in the early 1900's and how it enriched women's lives socially and is a more general on women's cycling history. 
Professor Mike Austin
Mike Austin is Professor of Philosophy and Religion at East Kentucky University in the USA and has co-edited a book called 'Cycling: Philosophy for everyone'

Mike is  an avid sports fan and cyclist and his book explores the connection between philosophy and the experiences of cycling on the mind...

"When we cycle, we embark on a philosophical journey as well as a physical journey"
Reetta Keisanen
Reetta Keisenen is the cycling co- ordinator for the City of Helsinki in Finland which, like many cities around the World,  is embarking on a sustained programme to integrate the bicycle into the city.   Reetta  discusses what the priorities are for creating safer and easier cycling in a busy city. Helsinki has an urban redevelopment programme to transform Helsinki into a green city. Known as "vision 2050" it envisions a harmonious urban structure of the region which is based on public transport which it is hoped will be versatile as well as eco-efficient and low carbon. Key to achieving this goal is improving public transport and interesting people to cycle more.