Main content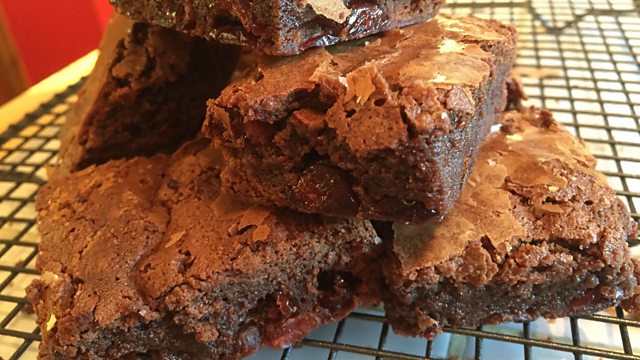 Food Friday - Chocolate and Chilli Brownies
This week's Food Friday recipe came from Janine Finch's kitchen in Leicester Forest East.
Gooey Chocolate chilli brownie's with juicy cranberries:
When teatime's or the evenings begin to get chilly, this is great to have with a cup of Coffee or tea. I have been making this for years and always gives me a nice warm, fuzzy feeling after eating it.
A super, easy, sweet treat to serve whatever the occasion;may it be friends around for the Rugby or even an Autumn BBQ, this will go great after Hot dogs, or an autumnal one pot wonder.
Ingredients:
(Serves 8 Brownies in a tin roughly as mine was 28cmx18cm )
- 100g Dark Chocolate ( at least 60,70 % cocoa solids )
- 88g unsalted butter
- 163g Caster sugar
- 2 eggs
- 65g plain flour
- 50g dried cranberries
- 1/4-1/2 tsp of Ground hot chilli powder (depending how hot you want it! )
- 1/4-1/2 tsp of fresh chopped red chilli ( depending how hot you want it! )
Method:
* Grease a tin of your choice and line with parchment paper
* Preheat oven to 160-170c
* Melt chocolate and butter in a heatproof bowl over a pan of simmering water
* In a separate bowl whisk eggs and sugar together and then sift in flour and fold in
* Place that mixture into the melted chocolate and butter and mix with a spatular, add in cranberries
* place mixture into your baking tray and pop into the oven for about 40 minutes
* Allow to cool on a tray until you cut into squares
* Serve with a nice cup of hot drink, double cream or Ice cream.
Duration:
More clips from Ben Jackson