Main content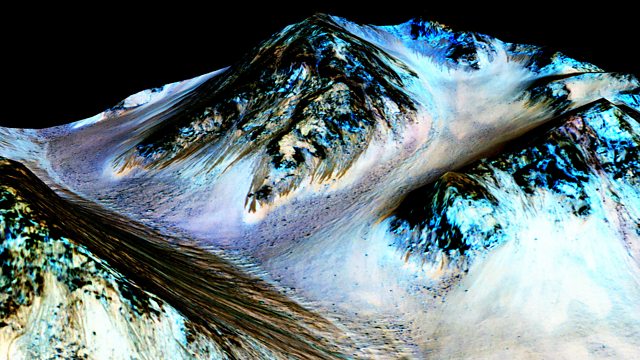 Flowing Water on Mars
Science news and highlights of the week
Dark streaks on crater slopes on Mars have been identified as salt deposits. The presence of salt could be the strongest evidence of liquid water on the surface of the Red Planet. While Martian surface temperatures range between zero and -100C, the high salt content of the water could act as an anti-freeze, keeping the water liquid.
Cuba Health Tourism
Cuba is becoming a popular destination for international health tourists. Will Grant reports from one of the country's hotel-hospitals.
The Infinite Monkey Cage USA Tour:
The BBC's award-winning radio science/comedy show The Infinite Monkey Cage has transported itself to the USA bringing its unique brand of witty, irreverent science chat to an American audience for the first time.
Seedbank in Syria
We are never more reminded that we live in a truly global village than when we look at a plate of food. There could be potatoes and tomatoes that evolved in South America, bread made with wheat which started in the Middle East, cassava, now an African staple, originated in Brazil. Crop diversity is of increasing importance and if we want to have this variety of food in the future, with a growing population and a changing climate, we need to look after the hundreds and thousands of genetic varieties of the food plants we grow and eat. And this is where seedbanks come in. Seedbanks are one of the planet's insurance policies to ensure we can access crop varieties to help improve our crops. But seedbanks are not static 'museums' of crop seeds and plant material. Plant breeders, farmers and scientists can, and do, request access to seeds in national collections all the time. But this is the first time an international collection has requested a seed withdrawal from the ultimate seed back up bank – the Svalbard Global Seed Vault. Due to the civil war in the region, ICARDA - International Center for Agricultural Research in Dry Areas that was housed in Aleppo in Syria is moving and it needs its seed deposit back.
Project Isizwe
In South Africa, mobile phones may be common but data is expensive. And yet it is important for education. Project Isizwe co-founder James Devine talks about spreading free wi-fi in South Africa.
Science Hour was presented by Gareth Mitchell with comments from Jonathan Webb
(Photo: Dark, narrow streaks on Martian slopes such as these at Hale Crater are inferred to be formed by seasonal flow of water on contemporary Mars © NASA/JPL-Caltech/University of Arizona)
Last on
BBC World Service
South Asia
Broadcasts
BBC World Service

South Asia