Main content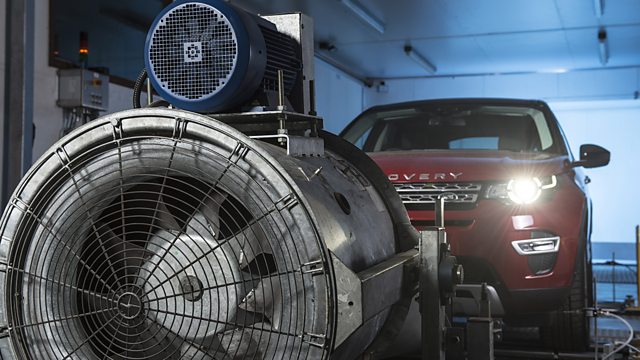 Technology and Car Emissions
Technology and car emissions; Blockchain money transfers; Getting online for the first time; Future of Cities.
The car manufacturer VW has admitted that more than eleven million diesel cars could be affected by the company rigging car emission tests in the US. Calls for testing of VW diesel cars outside the US are growing, with Italy, France and South Korea opening investigations. But can current technology accurately test real world driving emissions? Professor Chris Brace from the University of Bath explains what can be done now.
Blockchain Money Transfer
Could Bitcoin blockchain technology be moving into mainstream banking, making money transfers faster and more secure? Gareth Mitchell speaks to David Rutter, CEO of R3, a financial innovation company that will be working with nine major banks to develop blockchain technology for tracking real life financial transactions. The technology works by making a chain of all transactions and sending this updated chain to everyone who has ever made a transaction. But will this method lead to faster more secure and cheaper transactions?
Getting Online for the First Time
A new project is about to be launched in the Philippines to help people who have never used a computer get online. It is an extension of the work currently being done by the Tinder Foundation, a 'not for profit' in the UK that helps a quarter of a million people use the internet every year. The Philippines, like the UK, is increasingly moving to an online system where many government services will soon only be accessible through the internet. Helen Milner, CEO of the Tinder Foundation, spoke to Click just before she set off.
Future of Cities
The Vision of Cambridge report 2065 has just been published with leading scientists and entrepreneurs contributing to predictions as to how the city will develop. Much of this predicted expansion will be possible because of smart technology; big data, the internet of things, driverless cars, online teaching. Dr David Cleevely (founding Chairman of the Cambridge Science Centre and Founding Director of the Centre for Science and Policy, University of Cambridge), who contributed to the report, tells us if other cities around the world can benefit from these advances and which one's already are.
(Photo caption: A vehicle being tested at the Centre for Low Emission Vehicle Research. Credit: University of Bath)
Producer: Ania Lichtarowicz
Broadcasts
BBC World Service

Online, South Asia, Americas and the Caribbean & UK DAB/Freeview only