Main content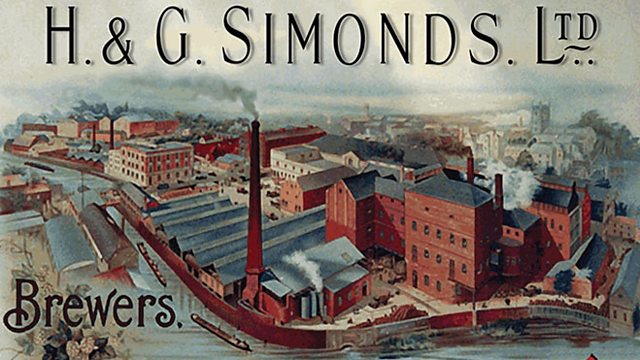 Bridge Street, Reading: Sending Beer to Troops
H & G Simonds encouraged breweries to send beer to the fronts
Beer production was one of Reading's main industries at the time of World War One and brewing continued in the town despite the rise of the temperance movement, staff shortages as men signed up to fight and difficulties obtaining raw materials and transporting goods.
H & G Simonds Ltd had its brewery on Bridge Street. The company was founded in 1785 by the Simonds, a prominent family, who had lived in Berkshire since the middle ages.
The company chair at the time of the war was George Blackall Simonds, a famous sculptor whose works include the Maiwand Lion in Reading's Forbury Gardens, statues of Queen Victoria and George Palmer and the Falconer in New York's Central Park. His only son and heir, George Prescott Blackall-Simonds, was killed in action in France in 1914, his body was never recovered. His father, who had left his career as an artist to work in the family business, came out of retirement to craft a memorial to his son at Bradfield.
Meanwhile, the managing director, Eric Simonds, used his position with the Brewers' Society to encourage brewers to send beer to the troops. He also gave Simonds a company logo; a red Hop Leaf sign.
H & G Simonds Ltd expanded after the war, purchasing breweries in the UK and overseas and was issued Royal Warrants.
The brewery, which was set up in Malta, is no longer owned by the family but still bears the family name – Simonds Farsons Cisk plc.
Simonds merged with Courage and Barclay Ltd in 1960 and brewing stopped in Reading in 2010. The Oracle shopping centre now stands on the site of the original brewery building in Bridge Street.
Location: Bridge Street, Reading RG1 2LR
Image courtesy of the Simonds family
Duration:
More clips from World War One At Home