Main content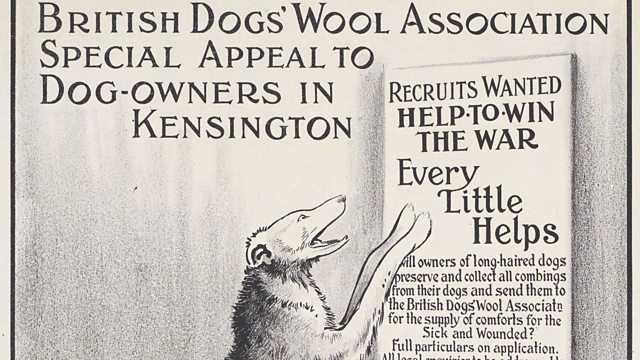 The Royal Academy of Arts, Mayfair: The Dog Wool Spinners
How did London charities keep up with demand of comforts for casualties?
During World War One, a poster appeared calling on the dog owners of Kensington to send fur combings to the British Dogs Wool Association.
The fur would be used for the "supply of comforts for the sick and wounded".
A prize was offered for every pound of "wool" given by a dog owner.
The Royal Academy of Arts in Burlington House was being used as the Central Work Rooms for the British Red Cross Society and Order of St John.
It was here dogs' fur was being spun and made into items such as socks for wounded soldiers.
Certain breeds were deemed best for the supply of dogs' wool. Collies, Setters and Spaniels were among the preferred breeds.
Combings from wire-haired breeds were not suitable for spinning but a 1918 letter sent from the Central Work Rooms to dog owners stated such combings could be used for filling "limb pillows".
The letter also stated: "Human hair is not suitable for our purpose".
Location: The Royal Academy of Arts, Burlington House, Mayfair, London W1J OBD
Image: A poster from the British Dogs' Wool Association, courtesy of the IWM
Duration:
More clips from World War One At Home