Main content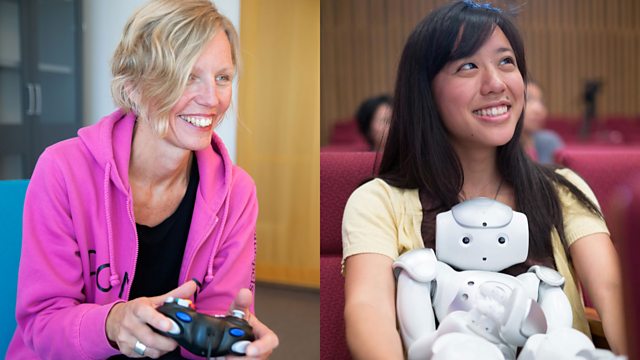 Gamers and Geeks: Jenny Brusk and Angelica Lim
A self-professed 'geek' and a pioneering game developer talk about making technology more human, attracting more women into the field and the gender backlash in tech.
Jenny Brusk didn't know what she was letting herself in for when she enrolled in a university Masters course in computing in 1990. She went on to become Sweden's first female games developer but she was often mistaken for the company receptionist. The experience made her stronger. She says, "rather than go hide somewhere in the office I would fill my space". Jenny is now researching how game characters can be made more psychologically realistic by using natural speech, gossip and lies. She is also the founder of DONNA, an organisation which aims to attract more women into the games industry.
Roboticist Angelica Lim is a self-professed 'geek' who programmes robots to have more 'human' traits, like compassion and empathy. She has lived, baked biscuits and made music with a robot, all in the name of research. The goal is creating the perfect companion robot which might provide help and therapy to the elderly or provide assistance at home to anyone. At some points when she was sharing her home with the robot, Angelica found herself questioning the relationship asking, "is it my servant or is it my kid?"
(Photo (L): Jenny Brusk, credit: Torbjörn Svensson. (R): Angelica Lim, credit: Andy Heather)
Clips

Featured in...
Special reports, news and a Silicon Valley debate on Artificial Intelligence