Main content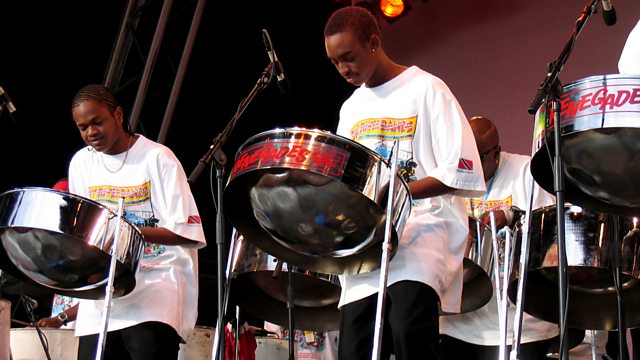 Steel
The strengths and weaknesses of steel, backbone of the global economy. With materials scientist Mark Rainforth, artist Marco Cianfanelli and steel-pan historian Kim Johnson.
Steel has been produced for thousands of years, but is it time to find a greener alternative to the metal alloy which built the global economy ? Exploring the unique properties of steel, its strength and versatility, are materials scientist Mark Rainforth, historian of steel-pan music Kim Johnson and the South African artist Marco Cianfanelli.
Photo; a steel band performing at a music festival (BBC)
Last on
BBC World Service
Australasia
Kim Johnson
Dr Kim Johnson is an historian at the University of Trinidad and Tobago and an expert on the history of steel-pan music. He is the writer and co-producer of the film 'Pan! Our Music Odyssey' and has traced the evolution of steel-pan music in Trinidad and Tobago over the last century. From the street gangs who first turned oil drums into music in the 1940s to today's 120-player steel orchestras, steel bands and the instruments they play have become ever more complex and sophisticated.  Kim explores the place of steel-pan in South Caribbean culture and the alchemy of the tuners, who through a complex process of heating and beating can turn a 55 gallon oil drum into an instrument producing up to 32 notes. 
Mark Rainforth
Mark Rainforth is a Professor of Materials Science and Head of Department at the University of Sheffield, UK.  His research interests centre on the manufacturing of metal alloys, in particular the design of new resource efficient high strength alloys. He is currently focused on the development of new ultra high strength steels for automotive applications that will allow a reduction in the weight of cars and therefore reduced CO2 emissions. Mark tells us why steel is changing more than any other material in the world.
Marco Cianfanelli
Marco Cianfanelli is a South African artist who often works with steel, exploiting its strength, durability and versatility. Marco was born in Johannesburg in 1970 and graduated, with a distinction in Fine Art, from the University of the Witwatersrand in 1992. He has had seven solo exhibitions and has won numerous awards, including the ABSA L'Atelier and Ampersand Fellowship. He is a member of the design team for The Freedom Park, South Africa's national monument to freedom, situated in Pretoria. And his monumental fragmented portrait sculpture, Release, was inaugurated to symbolically mark the 50th anniversary of Nelson Mandela's capture at the site in the KwaZulu Natal Midlands. Cianfanelli's work can be found in public and private collections in South Africa, Europe and the United States.
Sixty Second Idea to Change the World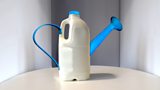 Marco Cianfanelli believes that we could create a clean environment, in cities and the countryside, by shifting our perception of waste material and finding value in all waste, even material that is currently judged to be worthless. The mine dumps that once surrounded Johannesburg are being flattened now it's possible to extract gold from the waste. And in the UK, minute particles of platinum from catalytic converters are now recovered from street dust. By encouraging new technological innovations and changing the culture of waste, Marco hopes to kick-start a new era of re-cycling and re-use. 

Photo/ Illustration: a milk carton watering can (Shan Pillay)
Broadcasts
BBC World Service

except Australasia

BBC World Service

Australasia