Main content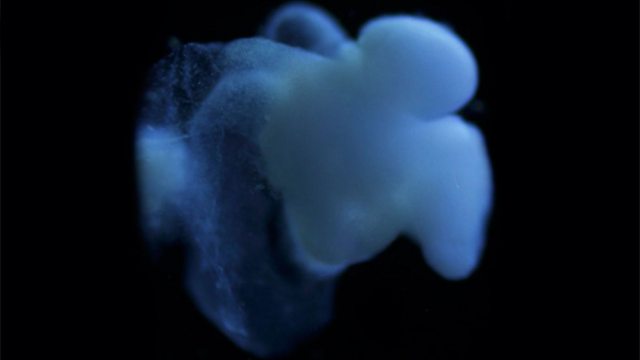 Brain in a Dish
Scientists from Ohio State University claim to have grown an almost fully-formed human brain in a lab for the first time.
Scientists from Ohio State University claim to have grown an almost fully-formed human brain in a lab for the first time.
Their aim is to expand understanding of neurological disease.
Paleo Diet
Why the expansion of the paleolithic brain was powered by cooked carbohydrates. Gareth Mitchell talks to Professor of Evolutionary Genetics, Mark Thomas, about the difficulties of establishing what our ancestors ate.
CO poisoning
In 2011, Roland Wessling and his partner were camping in the UK and had a barbecue one evening. Once the fire was out and the coals had cooled down several hours later, they brought the small barbecue into the porch area of their tent for safe-keeping; a decision that would change their lives forever. Hazel was killed and Roland poisoned by carbon monoxide. Even though the barbeque felt cold, the centre of the coals were still burning and filling their tent with the colourless, odourless gas.
Roland was in intensive care for two weeks and was given oxygen replacement therapy in a hyperbaric chamber. More often used to help patients' wounds to heal, to aid recovery from radiotherapy or for divers with the bends, they allow people to inhale pure oxygen at high pressure. To find out how they work, Claudia visits the London Hyperbaric Chamber at Whipps Cross Hospital in London, where she talks to consultant anaesthetist Peter Bothma, medical director of the unit.
Forensic science
Brian Cox and Robin Ince take a gruesome look at the science of death and some of the more unusual ways that forensic scientists are able to look for and gather clues and evidence. From insects that can be used to give a precise time of death, to the unusual field of forensic botany, It's not just DNA evidence that can be used to pinpoint someone to the scene of a crime. They are joined on stage by Professor Sue Black from the University of Dundee, Dr Mark Spencer, a forensic botanist at the Natural History Museum and comedian Rufus Hound.
Crop Monitoring Mobile Phones
Cameras on mobile phones could help farmers in the developing world to detect drought stress or diseases on crops. Research from the UK could help improve crop yield and reduce costs by detecting problems early.
Procrastination
It might seem strange to talk about time in terms of seconds, but researchers at the University of Southern California have found that if you want to avoid procrastinating, then it is better to think of your ultimate deadline in much smaller units; so talking seconds instead of minutes, or days instead of years. Daphna Oyserman, Professor of Psychology, Communication and Education tells us why we need this insight to help us finally get round to doing what we are supposed to do.
Science Hour was presented by Roland Pease with comments from Jonathan Amos.
Producer: Alexandra Feachem
(Photo; Miniature brain. Credit: Ohio State University)
Last on

BBC World Service
South Asia
Broadcasts
BBC World Service

except West and Central Africa

BBC World Service

South Asia