Main content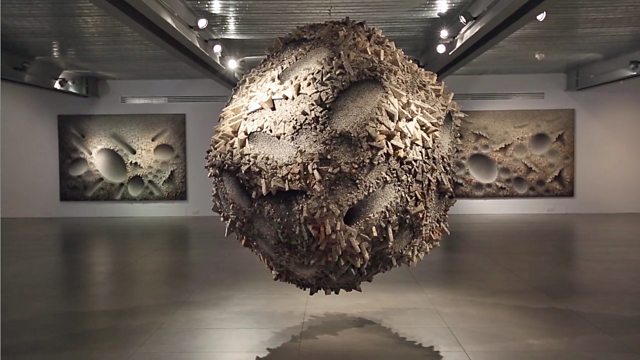 Bernat Klein and Kwang Young Chun at Dovecot Gallery
A preview of two exhibitions as part of Edinburgh Art Festival. Film by Stuart Armitt, courtesy of Dovecot Studios.
Edinburgh's Dovecot Gallery is hosting two major exhibitions as part of the 2015 Edinburgh Art Festival.
A Life in Colour is a retrospective exhibition featuring tapestries and paintings by the late Bernat Klein. The Serbian-born textile designer and artist founded the Colourcraft luxury textile enterprise in the Scottish Borders, producing vibrant mohair and tweed textiles for Europe's leading fashion houses. The exhibition spans five decades and includes tapestries created in collaboration with the Dovecot weavers in 1971.
Aggregations is the first solo exhibition in Scotland of internationally renowned Korean artist Kwang Young Chun, whose work explores the crossover between expressive fine art and the detailed precision of lovingly crafted hand-made objects. His colourful and complex assemblages are comprised of triangular forms in various sizes, cut from polystyrene, wrapped in Korean mulberry paper and tied with hand-twisted mulberry paper string.
This short film by Stuart Armitt, courtesy of Dovecot Studios, introduces both exhibitions, which are open seven days a week until 31 August, and from Mon-Sat until 26 September 2015.
Duration:
More clips from BBC at the Edinburgh Festivals