Main content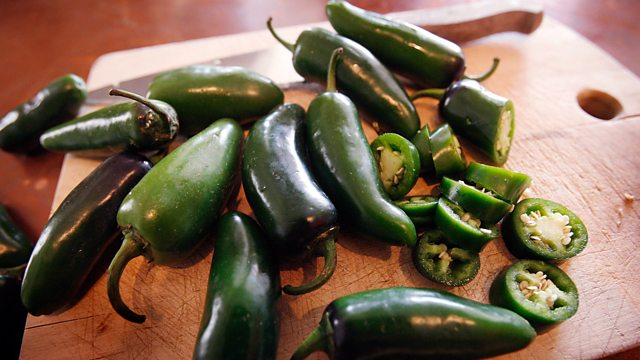 Does Eating Spicy Food Help You Live Longer?
Could regularly eating spicy food reduce your risk of death?; The very serious dangers of CO poisoning; A different way of talking about time to help prevent procrastination.
A vast study of half a million people in China has found that people who eat spicy foods have a reduced risk of death. Earlier experimental research has investigated the anti-oxidant, anti-inflammatory and anti-bacterial properties of spices in the laboratory, but this new study was the first to look at the real-life impact of regularly eating spicy foods. Lu Qi, Professor of Epidemiology at Tulane University in New Orleans, is one of the authors of the research, which has recently been published in the British Medical Journal.
CO poisoning
In 2011, Roland Wessling and his partner were camping in the UK and had a barbecue one evening. Once the fire was out and the coals had cooled down several hours later, they brought the small barbecue into the porch area of their tent for safe-keeping; a decision that would change their lives forever. Hazel was killed and Roland poisoned by carbon monoxide. Even though the barbeque felt cold, the centre of the coals were still burning and filling their tent with the colourless, odourless gas.
Roland was in intensive care for two weeks and was given oxygen replacement therapy in a hyperbaric chamber. More often used to help patients' wounds to heal, to aid recovery from radiotherapy or for divers with the bends, they allow people to inhale pure oxygen at high pressure. To find out how they work, Claudia visits the London Hyperbaric Chamber at Whipps Cross Hospital in London, where she talks to consultant anaesthetist Peter Bothma, medical director of the unit.
Procrastination
It might seem strange to talk about time in terms of seconds, but researchers at the University of Southern California have found that if you want to avoid procrastinating, then it is better to think of your ultimate deadline in much smaller units; so talking seconds instead of minutes, or days instead of years. Daphna Oyserman, Professor of Psychology, Communication and Education tells Health Check why we need this insight to help us finally get round to doing what we are supposed to do.
(Picture credit: Getty Images)
Broadcasts
BBC World Service

Online, South Asia, UK DAB/Freeview & Americas and the Caribbean only