Main content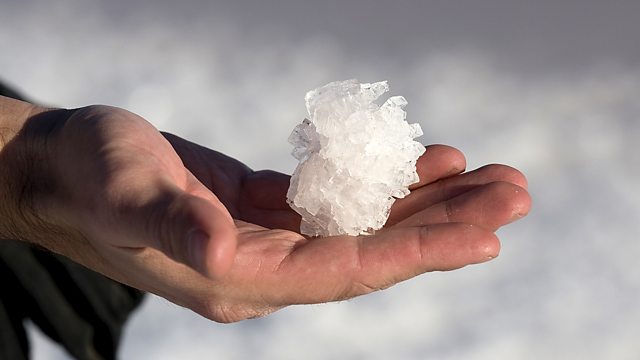 The Salt Story
Salt in nature, in human health, in African history and on Mars.
Salt has, in some ways, been as geopolitically important as oil or water. In trade, in food and in human health it is a critical ingredient. Tim Marlow talks about different aspects of salt with four expert guests. Adel Sharif, Professor of Water Engineering and Process Innovation at Surrey University explains the latest developments in desalination; historian Professor Paul Lovejoy, discusses his book 'Salt in the Desert Sun' which looks at a history of salt production in parts of Africa, Graham MacGregor; Professor of Cardiovascular Medicine and Chairman of World Action on Salt & Health at the Wolfson Institute of Preventive Medicine examines salt and health but also salt in a cultural context and Mikki Osterloo, a planetary and geological research scientist, who discovered approximately 200 places on southern Mars that show characteristics consistent with salt, explores salt- and therefore possibly water- on Mars.
(Photo: Large salt crystals. Credit: Getty Images)
Graham MacGregor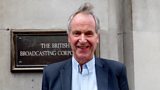 Graham MacGregor is Professor of Cardiovascular Medicine at the Wolfson Institute of Preventive Medicine and honorary consultant physician at St George's Hospital, London.

Professor MacGregor set up Consensus Action on Salt and Health in 1996 and World Action on Salt and Health in 2005 and chairs both.

His research has focused on the mechanisms underlying the rise in blood pressure in hypertension, the importance of the renin-angiotensin system, and the influence of salt and potassium intake on health. He has written many scientific articles on various aspects of blood pressure and cardiovascular medicine

His research has also focused on better ways of treating patients, particularly non pharmacological ways, and also the better use of drugs for the treatment of high blood pressure. 

Graham discusses both the health impact of salt in our diet but also salt in a broader cultural context, from early human history to the French Revolution.
Paul Lovejoy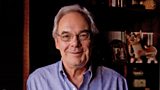 Paul E. Lovejoy is Distinguished Research Professor in the Department of History, York University, Toronto, and holds the Canada Research Chair in African Diaspora History. He is a leading scholar in the study of slavery.

He's conducted extensive research in West Africa, the Caribbean, North America, and Latin America and has published more than twenty books and 120 articles and papers on African history and the African Diaspora.

He is currently the editor of the Harriet Tubman Series on the African Diaspora for Africa World Press, a Fellow of the Royal Society of Canada and Research Professor at the Wilberforce Institute for the Study of Slavery and Emancipation, University of Hull, UK.

He is compiling a biographical database of enslaved Africans and their descendants.

Paul talks about how his work on salt in African history gave him insight into far greater and more sophisticated economic development in Central and Western Africa than historians had previously considered.
Adel Sharif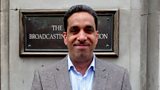 Adel Sharif is Professor of Water Engineering and Process Innovation, and Founder Director of the Centre for Osmosis Research and Applications, (CORA) at the University of Surrey, UK.
Professor Sharif founded 'CORA' in 2003, the centre's research activities in the area of osmosis science and applications have resulted in a number of inventions in the areas of desalination, water treatment, and renewable power generation.

Professor Sharif is a winner of The Queen's 2011 Anniversary Prize for Water Research and the 2005 UK Royal Society Brian Mercer Senior Award for Innovation in Science and Technology.

He obtained his first degree in Chemical Engineering from Baghdad University in 1986, followed by M.Sc and PhD from University of Wales. He has over 100 publications; is an inventor and co-inventor of more than 15 patents.  He is a member of the Qatar Foundation's Expatriate Arab Scientists Forum.

Adel explains desalination techniques and suggests that desalination could be a broker for peace for nations that are fighting over fresh drinking water.
Mikki Osterloo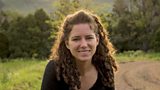 Mikki M. Osterloo is geological scientist and her area of specialty  is in planetary science, spectroscopy, remote sensing, and structural geology.

She is currently a Researcher at the Colorado University, and has co-published numerous papers from 2004 – 2015. She has also worked for the Planetary Science Directorate, Southwest Research Institute, Boulder, Colorado, USA.

In 2008, a team led by Mikki found evidence of what they thought were  chloride salt deposits in about 200 places in Mars' southern hemisphere. The salts indicate there was water on Mars, either standing or evaporating.

Mikki talks about her discovery and the latest work on Mars to find and analyse salt deposits in the search for life on the Red Planet and beyond.