Main content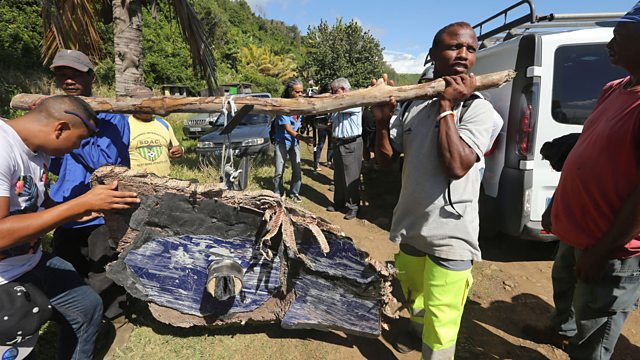 Searching for Flight MH370
Barnacles, sea currents and the search for flight MH370; Ecological worries about Suez Canal extension; Finding clues for captive breeding in Doucs monkey droppings.
Following the discovery of the possible wing portion of flight MH370 at the end of July, scientists have come forward with a number of different methods to extract clues from the debris that could tell us where the plane crashed last year. Using barnacles attached to the debris and detailed modelling of Indian Ocean currents, we could be getting closer to solving the mystery of the flight's disappearance.
Ecological Worries about Suez Canal Extension
With the recent expansion of the Suez Canal, ecologists have voiced worries about the possible increase in the number of invasive species that travel between the Red Sea and the Mediterranean, which already impact tourism, fishing and even power production in the region.
Dogs Sniffing for Invasive Species
Dogs are being used to seek out invasive mussel species on the hulls of boats that cross the Great Lakes between the US and Canada.
Tasmanian Devils Could be Reintroduced to the Mainland
The culling of dingoes on mainland Australia has led to a great ecological imbalance, with large numbers of foxes and cats running wild. Could reintroducing the Tasmanian devil as top predator help restore the health of the ecosystem?
Clues about REM Seep
The discovery that certain neurons fire at the same time as the rapid eye movements of sleep suggests that this action is linked to a changing environment within dreams, not the individual looking around the dreamscape.
Finding Clues for Captive Breeding in Doucs Monkey Droppings
Scientists in Vietnam are collecting and analysing Douc droppings to see if they can breed these endangered monkeys in captivity.
(Photo caption: Local ecological association members and volunteers carry debris found in the eastern part of Sainte-Suzanne, on France's Reunion Island in the Indian Ocean. Credit: Richard Bouhet/AFP/Getty Images)
Presenter: Tracey Logan
Producer: Ania Lichtarowicz
Broadcasts
BBC World Service

Online, South Asia, Americas and the Caribbean & UK DAB/Freeview only