Main content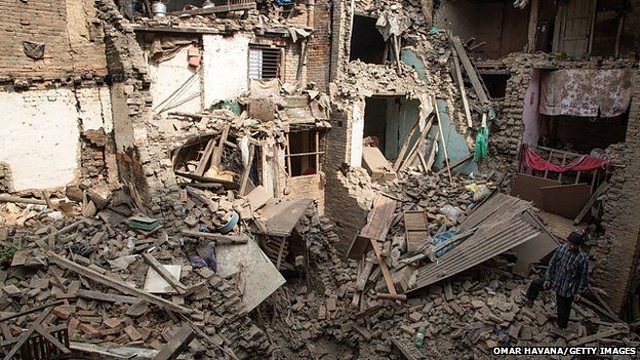 Nepal-India Earthquake Risk
There is an increased risk of a future major earthquake in an area that straddles the west of Nepal and India
There is an increased risk of a future major earthquake in an area that straddles the west of Nepal and India, scientists warn. New data has revealed that the devastating quake that hit Nepal in April did not release all of the stress that had built up underground, and has pushed some of it westwards.
Barnacles on MH370 Debris
The type and size of barnacles on the Malaysian Airways MH370 flight debris could provide clues to the path it took through the Indian Ocean, according to Professor Richard Lampitt of the National Oceanography Centre in Southampton.
Bonobos
Adam Rutherford talks to Zanna Clay about research into our closest relatives, the bonobos and the unique 'peep' noises they make and why they could provide clues to the evolution of human language.
Polio
A decade ago Nigeria became one of the world's last hotspots for polio after vaccination boycotts in the north of the country. Happily, in the past year, there has not been one reported case of polio in the country. Former Nigerian minister of health Dr Muhammad Pate and medical anthropologist Heidi Larson talk about how this dramatic turnaround came about.
Henry Moseley
Roland Pease reports on one of Britain's great yet little known physicists, Henry Moseley. He died in the First World War but in just 18 months of research transformed ideas about X-rays and the atom and the Periodic Table of elements.
Hiroshima
In the 70 years since the bombing of Hiroshima and Nagasaki, what are the long term effects of exposure to radiation? Adam Rutherford talks to Professor Richard Wakeford who has been studying radiation for many years about his research following the nuclear bombings as well as nuclear accidents at Chernobyl and Fukushima.
First Tech Hub in Malawi
Malawi's first Technology Hub mHub opened recently. mHub aims to be an open space where ideas grow into viable technology solutions that can transcend into sustainable business models. Its goal is to become a leading ICT think tank in Malawi and the region.
The Science Hour was presented by Gareth Mitchell with comments from Jonathan Webb.
Producer: Deborah Cohen
(Photo: Nepal earthquake 2015. Credit: Getty Images)