Main content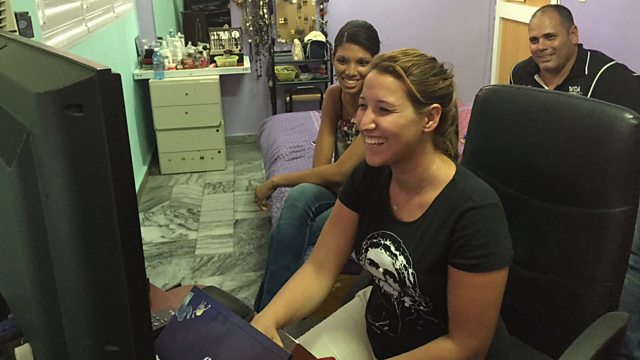 Cuba: No Internet, No Problem
Coping without internet connection in Cuba; Africa Fashion Week; Jon Stewart's Iranian fanbase; and life in Aden, away from war
In Cuba, internet access is a rare commodity limited to expensive tourist hotels or a few wifi zones around major cities. So Cubans have come up with a unique way to share information without the internet, El Paquete Semanal, the Weekly Package - external hard drives filled with international and Cuban media passed from person to person. The downloading of international copyrighted material exists in a legal grey area in Cuba but would be illegal elsewhere in the world. In the first of a series of features about today's Cuba, BBC Monitoring's Emilio San Pedro heads to Havana, the home city of his parents, to find out how this simple act of passing hard-drives from household to household is changing the lives of Cubans.
African fashion on the Fifth Floor
This weekend London plays host to Africa Fashion Week, Europe's largest catwalk event of African and African-inspired design. Some of that fervour for fashion has spilled over onto the Fifth Floor with BBC Africa launching a multimedia project to ask what African fashion means to an African audience. Two fashionistas from the team - Veronique Edwards and Uwa Nnachi - share tips and tales African style.
Who's watching Jon Stewart in Iran?
So the US Comedian Jon Stewart hosted his final ever episode of the satirical news programme The Daily Show last night. He's spent nearly 17 years at the helm of the fake news desk, becoming the voice of liberal America but it's not just his American fans who will miss him because Jon Stewart also has a big following among Iranians. Why? BBC Persian's Bahman Kalbasi explains.
Inside Aden
Afra Ahmed of BBC Arabic was born and brought up in Yemen's southern city of Aden. Houthi rebel forces entered Aden in Marchand and the city has been at the heart of the conflict between rebels and forces loyal to Yemen's exiled government. It is now back under government control. Afra tells us what it means to be an Adeni, and why the city means so much to her.
The Chinese art of making replicas
China has one of the oldest art traditions in the world. However in recent years, it's become almost as famous for its ability to produce copies of famous art works. Da Fen village in Guangdong province specialises in making replicas of paintings by artists such as Rembrandt, Van Gogh and Salvador Dali. At the darker end of the industry is forgery. A Chinese curator was recently prosecuted for stealing more than 140 paintings by Chinese masters and replacing them with forgeries he painted himself. The BBC's Weiliang Nie and Xinyan Yu discuss China's relationship with replicas.
And Fifi shares her favourites stories from the web this week.
Picture: Cubans enjoying the internet without going online. Credit: BBC