Main content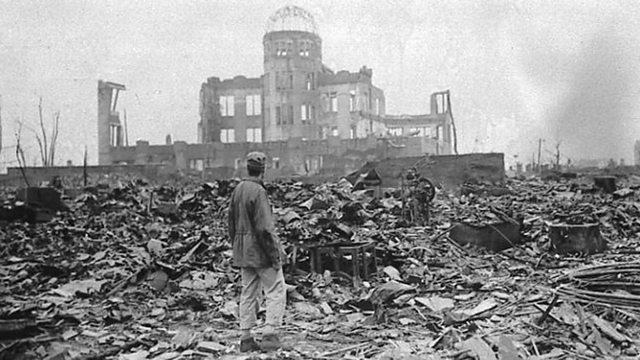 Hiroshima Bomb: 70th Anniversary
Seventieth anniversary of Hiroshima; Nasa's Quest for Quakes; Earthquakes jumping balancing rocks; Nepal quake update; Burning and weather patterns in Africa.
Since the first atomic bomb was dropped on the Japanese city of Hiroshima, scientists have been studying the effect of that huge dose of radiation on survivors. Seventy years on, professor Richard Wakeford tells Roland Pease that researchers have found a surprising lack of hereditary mutation risks, along with many lessons that can be learned about long term radiation risk.
Nasa's Quest for Quakes
Predicting earthquakes has proved to be impossible. With the Quest for Quakes challenge, Nasa hopes to tease out a relationship between rock-generated electrical activity and devastating earthquakes. Provided with huge amounts of data from sensors across the Americas, entrants are going to see if there is such a relationship, of which many are unsure if there is one there to be found. Gerard Bawden explains.
Earthquakes Jumping Balancing Rocks
A collection of rocks near the extremely active San Andreas fault has never been toppled by an earthquake, despite huge numbers in the area. It appears that the quakes can stop or "jump" the area due to interactions with another nearby fault.
Nepal Quake Update
Recent work analysing in detail the Nepalese earthquake in April has illuminated how exactly it caused so much destruction, as well as uncovering some worrying data that suggests the fault is still locked further to the west and there's a risk of another large quake in the future.
Burning and Weather Patterns in Africa
The cumulative effect of many small man-made fires in Northern Africa appears to be influencing the weather systems of the area, preventing clouds from forming, says Michael Tosca of Nasa's Jet Propulsion Lab.
Photo: An allied correspondent stands in a sea of rubble before the shell of a building that once was a movie theatre in Hiroshima © AP
Presenter: Roland Pease